« 2nd eBook - Fletcher's 1916 volume | Front Page | The Colouring book is on the way! »
Posted by Dave Bull at 12:03 AM, August 3, 2006
Most of my recent work on Mokuhankan has been 'behind the scenes', working on the Japanese side of the site. But print 'construction' work is still continuing bit by bit ... Here's a shot from the webcam taken this evening ... I'm working my way through a zillion dragon scales!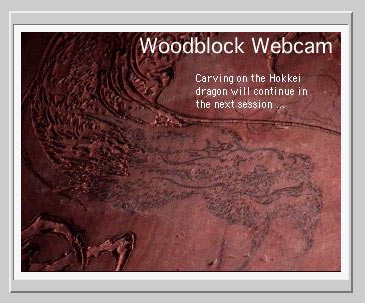 In other news, replacement blocks for 'Aspen Grove' were ordered, but have yet to arrive. Mike let me know that he has a 'window' of time available at the end of August, but I don't think that I'll be able to get the wood to him by that time, as there really isn't any way that I can afford to send the very heavy package by air.
And the long delay with the final stage of the Hilo Bay print is now over, and the batch has been sent back to me by Numabe-san the printer. Now to - gulp - pay his bill!
Added by: Gary on August 5, 2006 11:33 PM
The 'delay' in the final stage of the 'Hilo Bay' print was my doing. I was not totally satisfied in the depth of color of one of the blocks from the printing.
Dave, I think, swallowed hard after a consideration of the additional cost, but agreed to go the extra length for which I commend him. There are times when perhaps only the designer is aware of nuance that doesn't seem quite there yet, and this was one of those times, but one of the reasons I enjoy working with Dave on a project is that I know he has quality in mind and will go to great lengths to achieve it. I haven't received my prints in the mail yet, but from the Mokuhankan on-line catalog enlargement of it, I am very happy with the result! This is one very nice print and I am proud to have my name associated with Dave's production of it.

Added by: Dave on August 6, 2006 6:35 PM
The 'delay' in the final stage of the 'Hilo Bay' print was my doing. I was not totally satisfied in the depth of color of one of the blocks from the printing.
Well, yes ... the batch of prints has had some 'travels' back and forth over the past few weeks, but everything has now been nailed down permanently. It might be worth noting as an aside, that the paper used to make traditional Japanese prints is extremely resilient and stable. It can be repeatedly dried and moistened again ready for printing, and colours can be applied over previously printed areas to either deepen tones, or change their character.
Anyway, this one is now done, and I guess all in all the result is well worth the efforts that have gone into it. We'll see what the 'market' says over the next couple of years.
And my focus will now move to the upcoming items in the catalogue ...

Added by: Jacques on August 20, 2006 9:08 AM
Here is another reaction to Dave's analogue reproduction of Gary Luedtke's Hilo Bay print from an individual in the 'market'...
I finally received Mokuhankan's Hilo Bay print today. In one sentence: This is an absolutely delightful print!
It has an incredibly beautiful colour palette, and even more stunning colour gradations, easily comparing (to my surprise!) with the results obtainable in the 'digital Adobe world' where it was initially conceived.
Comparing the final result with Dave's first attempt at printing this image, the improvements made by Numabe-san are amazing. The islands in the (still shadowed) foreground are now wonderfully sharp and crisp, due also to the light and bright tones of the background, giving the image a great early morning light impression.
The mauvish blue in the clouds also does a great job in distinguishing these very same clouds from the ice-covered mountain tops in the background (reflecting the blue of the sky).
Even when viewed from a distance, this print simply screams 'light'!
I congratulate the three of you: David (carver and publisher), Gary (designer), and Numabe-san (printer) with this wonderful result. Copies of this print should really be flying out to interested collectors of Japanese woodblock prints in the near future!
Jacques

Added by: Dave on August 21, 2006 8:54 AM
Comparing the final result with Dave's first attempt at printing this image, the improvements made by Numabe-san are amazing.
Next time please compare my final with his final! :-)
But yes, didn't it turn out well! I've struggled trying to get a better image for the website, but I don't know what else to do ... it just looks so much better in real life! Just something about how the colour has sunk into the paper so deeply ... I'm not catching that in the photos/scans at all.
Anyway, one consolation is that purchasers will never be disappointed when they receive their package!


Added by: Gary on August 21, 2006 10:12 AM
I think we should give you the chance to do a 'final' on your next print from another of my images, Dave, just so you can prove yourself! :)

Added by: Dave on August 21, 2006 10:23 AM
... just so you can prove yourself! :)
Oh, I was just joshing ... I don't think I have to prove anything ... And besides, Numabe-san couldn't carve his way out of a paper bag!
This has though, been a good learning experience for me too. Because I have worked almost totally independently all these years, I have developed my own way of working, and on his side, because he learned by working with experienced printers, he of course picked up their way of doing things.
So during our sessions together on this print project, we both had occasion to say sometimes "Yeah, interesting ... I hadn't thought of trying that ..."
Nothing but good can come out of these collaborations!

Added by: Jacques on August 24, 2006 9:43 AM
The text "David (carver and publisher)" in my latest posting actually should have read "David (carver, first printer, and publisher)", because I'm sure that Numabe-san's subsequent and final printing profited by Dave's initial printing experiences...
In an earlier posting, Dave, you mentioned that Numabe-san told you on the phone -while laughing- that he'd tell you later how he accomplished the subtle gradation in the sky in his printing of Hilo Bay (I remember you guessed that he maybe used a special baren).
Did he later tell you how he achieved this effect?
And Gary, could you share with us which final printing adjustments you asked to be made to this print?
Thank you in advance for any additional information the two of you are willing to provide!


Added by: Dave on August 24, 2006 9:54 AM
that he'd tell you later how he accomplished the subtle gradation in the sky
Yes, I meant to post about this, but forgot all about it ... He did indeed, use a ball-bearing baren for the job, printing over a slightly-oiled thin mylar sheet.
He got the job done better than I was able to, but at a price - I think we are now at the very edge of 'killing' the paper. This hosho paper is incredibly tough, and will take an amazing amount of beating, as you can see in any shin-hanga print, where up to dozens of colours can be printed on top of each other without destroying the 'character' of the paper.
But by using extreme pressure like this, I think we are moving into an area where the fibre mat gets compressed so much that some of the subtle beauty of the paper itself disappears. We end up with a print that might as well be a silkscreen - characterless colour on a paper substrate.
Numabe didn't go that far, and this print is still a beautiful object, but we did talk about the direction this could take us in future, and where I want to go ...
I should also add that he only felt it necessary to move in this direction because of the inherent un-evenness in the structure of the paper we get these days. I know from my own work how insanely difficult it is to print blemish-free colour nowadays. It is so much easier to print goma-zuri (speckled colour), and when I gave him the mandate "No goma! None!" he thought I was crazy.
We're going to have to find a balance somewhere ...

Added by: Gary on August 24, 2006 10:38 AM
The final adjustment I requested Dave to make was an additional printing of the cloud shadows on the hillside, which I thought had not been printed in a deep enough tone to achieve the contrast I had been after.
In receiving the actual print from Dave I have to say that this correction was made probably as near on target as could be expected without my actually being there looking over Numabe-san's shoulder. Color nuances are difficult to achieve, and impossible to put into words. _All_ other aspects of the print exceeded my expectations and gave it in fact what I had hoped for, that extra magic that a woodblock print is capable of in the hands of experts!

Added by: gary on August 25, 2006 4:27 AM
Just a question on the ball bearing baren Numabe-san used. You said doing so was hard on the hosho paper, and, were many more colors to be printed it would start taking a toll on the paper. Does the use of the ball bearing baren at all shorten the life of the blocks?

Added by: Jacques on August 25, 2006 6:58 AM
Dave and Gary, thank you for your prompt answers to my questions!

Added by: Dave on August 25, 2006 9:04 AM
Does the use of the ball bearing baren at all shorten the life of the blocks?
I don't know. I have one myself, but have never used it for 'normal' printing. I bought it for the purpose of using it on a 'beta-ban' (blank block with no carving) to flatten paper before printing. I don't do that with all prints of course, just those that are going to involve extremely delicate lines; they just can't be printed on the rough surface that we get on all modern paper. (And actually, I no longer use it for that purpose, as I bought a small press to do that job.)
When we were talking about the various plus/minus of using this tool, Numabe-san swore that it didn't hurt the blocks. I imagine that if one used it on a block with delicate carving, it would of course do some damage, but nobody would do such a thing - we only need it on those wide areas that need smooth colour.
And he used it with a protective sheet of fairly hefty mylar film, which he oiled lightly first. There wasn't any brutal pressure involved ...
There is an interesting question on the use of such tools - how much do we allow ourselves to 'evolve' and accept new ideas, before we are no longer doing 'traditional' printmaking? I don't have any major problem with this particular one, because obviously the core of what we are doing - the knife/block/pigment/washi package - remains unchanged. But just where to draw the line is a good question ...

Added by: Gary on August 25, 2006 10:58 AM
...just where to draw the line is a good question...
It would seem to me the line would be drawn by first deciding whether it is the 'process' of woodblock printing in its traditional sense you wish to preserve, or whether the high quality woodblock print itself is the important goal.
If you can improve upon the methods to achieve this by non-traditional techniques, then to innovate new methods is justified. If your goal is to produce woodblock prints of high quality using only traditional tools and techniques, then of course the ball bearing baren and other new techniques and tools are out in the trash.
My vote goes to the end product. After all, that's why the 'traditional' techniques lasted. They were found by trial and error from available resources, the ones that worked best were kept, the others not. If you discover or invent even better tools, techniques or materials from a wider scope of resources to achieve a higher quality print, it would be foolish not to use them. The tools and techniques are only in existence to achieve the goal of producing prints.

Added by: Jacques on August 27, 2006 9:14 AM
Still, Gary, I certainly understand Dave's worries about how thin the line could become in the near future...
Would _you_ consider a print printed with blocks carved by a machine, and then also printed by another machine, to be worthy of the name 'woodblock print', however appealling the result may be?
However this may be, apart from all the pros and cons that I already passed on to David on this issue, another one (can you believe it!) in favour of the digital way of doing things is that _size_ no longer matters: Whatever is made in digital form can be enlarged at will, and I've seen this Dutch artist Joost Veerkamp doing exactly that. On demand, he will sell you his (by the way: analogue) prints in whatever size you like (and they can be huge, like 2 by 3 meters for example).
Still, all I can hope for is that the sheer craftmanship involved in making 'real' woodblock prints will somehow be preserved (including all the special effects that are unobtainable in the analogue printing world, like mica and metal backgrounds, embossings, and all other special effects obtained by applying these thechniques on Japanese paper). And I'm glad that David is carrying on this tradition!
Most importantly, I'd say that the result of a person's own 'sweat' and 'hand work' is to be apppreciated much more than that obtained with any technical device.
Having said all this, did I get anyway nearer to the truth of the matter? I don't know ...

Added by: gary on September 12, 2006 10:56 PM
I think a number of things enters into this. The real starting point is the quality of the print produced. If it is not there, all techniques are irrelevant because who cares? If it is there, then how it was achieved becomes more important. As this set of traditional techniques evolved I think we must consider that they were at some point an innovation over what had been done before. Someone tried a new way of doing it, or tried new materials, found they worked better, and adopted them into the process.
From a broader view they had a limited number of resources so their options were also limited. Today those resources have been greatly expanded, so to say the techniques should not be upgraded when new and better ways of achieving the quality of printing is found would not be in keeping with the 'tradition' of technical improvements. Any technical improvement toward the goal of print quality should be welcomed, not shunned, because it further raises the level of art that can be achieved.
What constitutes 'improvement' is of course up to personal taste, and whether the ultimate quality of a print is achieved by hand or more mechanical means falls in that realm also. I would say in my own experience with the "Hilo Bay" print, it was initially drawn and colored on the computer, printed on the computer, sent to Dave who scanned it and reprinted it via computer, then pasted it on blocks and carved it, and sent it to Numabe-san to print. I don't see any sign that the ultimate print suffered from its computer origins, but in fact benefited from them.

Added by: Jacques on September 17, 2006 10:38 AM
How about the following very simple and straightforward solution to all of these Adobe versus Watanabe discussions?
A print made from hand carved blocks, and hand printed on Japanese paper, counts as a genuine handmade woodblock print (as David writes on the package coming with Gary's beautiful Hilo Bay print, for example).
A print made from blocks carved by a machine, and then also printed on Japanese paper by a machine, is a machine made woodblock print.
A print either made from hand carved blocks by a machine, and then hand printed on Japanese paper, or made from machine made blocks, and then printed by hand, can be called a half hand- half machine produced woodblock print.
A print made on a computer, and then printed on (whatever type of) paper by a laser or inkjet printer, is not a woodblock print at all.
Mind you, this does not involve any judgment on the results obtained with the techniques mentioned above at all (all of them being able to give perfectly satisfying results)!


Added by: Gary on September 18, 2006 11:59 AM
I agree, Jacques, we should simply call a print by how it is made, and history will sort out the techniques that survive.