« Aspen Grove (7) - Numabe's Proofing | Front Page | Hiroshi Yoshida eBook now on Mokuhankan »
Hilo Bay (14) - Embossments
Posted by Dave Bull at 7:26 PM, July 10, 2006
Continued from Hilo Bay [13] | Starting point of the thread is here
Numabe-san returned the prints to me in pretty good condition; I have seen packages of prints prepared by printers that were carelessly dried, all warped, and thus requiring a complete re-moistening and flattening, but these are fine.
Once they are embossed and sealed, they'll be ready to fly!

If I had really been on top of things, I would have had the embossing slugs prepared in advance, and given to Numabe-san to include with the printing job, but I didn't get them ready in time, so I'll be doing that job myself now.
That's no problem, and actually, it gives me one more control step - I'll check each print carefully as I seal it.
The first embossment is at the bottom of the right margin, and says "Hori: Buru / Suri: Numabe" (in Japanese).
I didn't carve this lettering, but prepared a digital master, and sent it out for etching on zinc: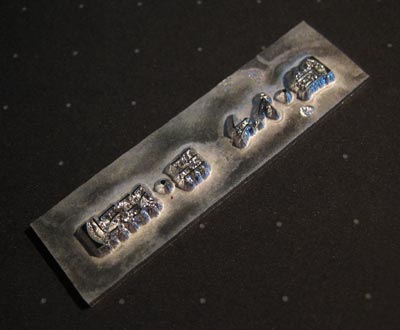 I just stuck it down a piece of wood with double-sided tape, cut a quick registration mark on the plank, and rubbed the paper over the lettering with my baren.
Because the title of the print is only visible in Japanese, I feel it needs an English title too, so I prepared a long thin strip of lettering for the bottom, reading "Morning Light at Hilo Bay, Gary Luedtke". That's actually not what this particular slug reads, which it why I was a bit late getting them ready ...

I can't get my camera to fit it all in without blurring, so here's just the right-hand end of the embossment:

Gary had earlier expressed the feeling that this stuff would detract from the image, but actually, it's almost invisible.
Finally, the Mokuhankan seal goes down in the very right corner - this also is pretty much invisible unless you put a really raking light onto it, like this:
Then with that work done, time to get some of the packaging parts out of the closet, and get a few of these ready to ship!
Added by: gary on July 13, 2006 11:36 PM
The embossing looks fine, Buru-san. :) You were right in that it does not detract from the general appearance of the print. Your packaging looks quite attractive too, though we are a bit far away to see the details. Having seen some of your previous print presentations however, I have confidence it will be nicely done. I look forward to seeing them up close once you have completed the finishing touches!

Added by: Barbara Mason on July 28, 2006 8:58 AM
What a lovely print.
Congratulations to all three of you for a job well done.

Added by: Chris Yee on July 31, 2006 11:37 AM
David - I received the Light at Hilo Bay print recently. This is a great print! I love the lightening dawn of the sky and the contrast with the deeper blue of the sea, and, as always in Hawaii, the rain clouds coming in with the light. I presently have this print displayed (not framed or hung, just on the shelf) side by side with an inkjet print by Gary, "Kapa'a Kauai" and the contrast is interesting. So far, I'm still a Watanabe fan. Thanks again all.

Added by: gary on August 12, 2006 5:26 AM
I'm not sure what Chris means about still being a 'Watanabe fan'. I'll take it as meaning he still prefers woodblock prints to digital ones, for which I concur when they are done as nicely as this. He should however be a 'Mokuhankan' fan now, not a Watanabe! At any rate, thanks for the compliments on the Hilo Bay print, which after just having received mine in the mail, I can now honestly chime in with praise for excellent carving and outstanding printing. Up to now Dave has only shown me this print via digital camera shot and email. Now the real thing is in front of me and I am very pleased!