« Visit to printer Shinkichi Numabe | Front Page | Hilo Bay (12) - Numabe's Proof (Updated) »
Mokuhankan Shopping Cart now up and running ...
Posted by Dave Bull at 10:30 AM, June 5, 2006
Just a quick note ... a Shopping Cart system is now in place on the Mokuhankan website.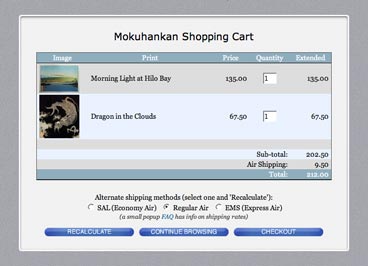 It is now very easy to browse through the catalogue, add things to the cart to check what an potential order would cost (with shipping), and to remove/add as required.
(It's been a steady carving week ... more progress updates should be coming soon ...)
Added by: aimee youmans on June 6, 2006 4:23 AM
can i get on this catalog list? thanks...

Added by: Dave on June 6, 2006 10:15 AM
There is no 'list' ... the catalogue mentioned is simply the collection of prints that Mokuhankan is publishing. They are linked from the lower section of this page ...
http://mokuhankan.com/prints.html