Surimono Albums
A series of stunning woodblock prints ...
Pushing the technique ...
The Surimono Albums is/was a set of prints originally created by woodblock printmaker David Bull in the five years (1999~2003) immediately following the completion of his ten-year 'One Hundred Poets' project. Each print was designed, carved and printed by himself, and sent out to his personal subscribers during those years. He made approximately 200 copies of each print.
From Dave's original description, back in 1999: "When I approached the end of my 'One Hundred Poets' woodblock print series, many ideas for future work presented themselves to me; there are many thousands of beautiful prints and books preserved in the museums of the world, just waiting to be brought to life again. The problem for me was not one of finding something to do, but of choosing among so many attractive alternatives. Browsing through volume after volume of print illustrations and various history books, and seeing many beautiful prints, over and over again I found myself coming back to the surimono genre. These were privately published works, used for gifts or sometimes for making announcements, and were almost never sold to the general public. Because no commercial motivations were involved, purely artistic factors were allowed to dominate economics in their manufacture. The finest papers and pigments were used, top rank craftsmen were commissioned to do the carving and printing, and the best artists were asked to produce the designs. The fine carving, the indescribably delicate printing - I wanted to use my skills to make prints like this!"
Dave worked on the series for five years, creating 5 complete albums of such prints (10 in each set). Most of the sets sold out long ago, but there are a few dozen left of Set #4. Dave's personal printmaking activities have now been brought into the Mokuhankan organization, which is handling management of subscriptions for the prints remaining from his original stock. (Note that the prints you will receive are not the later reprints from these same woodblocks that are currently being made by the Mokuhankan staff, but the originals carved and printed entirely by Dave himself.)
The prints in each set vary in size, but all fit within the album covers (see below) which are a standard LP record size. They are sent out to subscribers at the pace of one per month over a 10 month period.
Dave's original website for the series is still online, where you can read more about the concept.
Here are a few of the designs. To see the complete content of each album, visit the original website.
Presentation
Each print is held in a folder that carries a small essay related to the print (in Japanese and English) and a protective interleaf sheet. These folders are punched to fit into the album cover, where they are held in place by tied cords.
Note that the album cover is not an optional purchase, as with most of our boxes. But there is no separate charge for it, and it will automatically be included with the first print you receive.
As your subscription moves along, month by month, each print is sent, already packaged in its folder. You will need to untie the cords and insert the folder in the album. This continues month-by-month until the album becomes complete with the arrival of the tenth and final print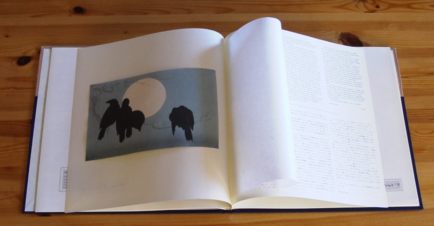 Identification
Each print carries Dave's 'baren' identification embossment and his signature.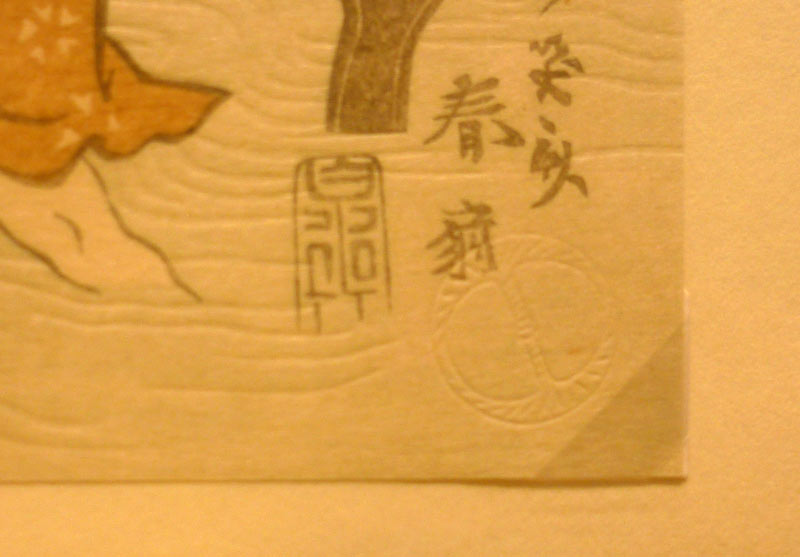 More information ...
Much more information about the series is available over on Dave's (very old-fashioned) original website for the series. You will find more discussion about surimono in history, and slide presentations showing how some of the prints were made.
We hope you will consider collecting this interesting set of prints!