Mokuhankan 'Print Parties'
Other Attractions in the neighbourhood
Are there other interesting things to do in our neighbourhood? Are you kidding?!? Here's a little map of the area within a two~three minute stroll!
Sensoji (the main temple that is the centerpiece of the district) is a two-minute walk, along with the famous Nakamise street and the giant Kaminarimon lanterns.
The Insanely Great™ shop/supermarket/department store Don Quijote, open 24 hours a day, is in the next block. Not to be missed.
Are you a gamer? The Adores Game Center is around the back of our block, and the venerable Taito Station Asakusa branch (including the batting dome) is only one block away.
The Traditional Crafts Museum is a two-minute walk away.
Two minutes in the other direction brings you to Yoshimi Daido's Tokyo Kitchen, where she holds one-day classes in Japanese cooking.
Across the street from her front door is a branch of the Kyokushin-kaikan Karate school ...
The Hana-Yashiki theme park, in existence for over 160 years, is two blocks away.
Just two doors down from us is the 'Smallest Theatre in the World'
The Kappabashi food service supply district - home of the famous plastic/wax food samples, is a few minutes away.
And as mentioned before, about a five second walk from our front door is the south end of a fantabulous street of bars and restaurants that comes alive in the evenings ...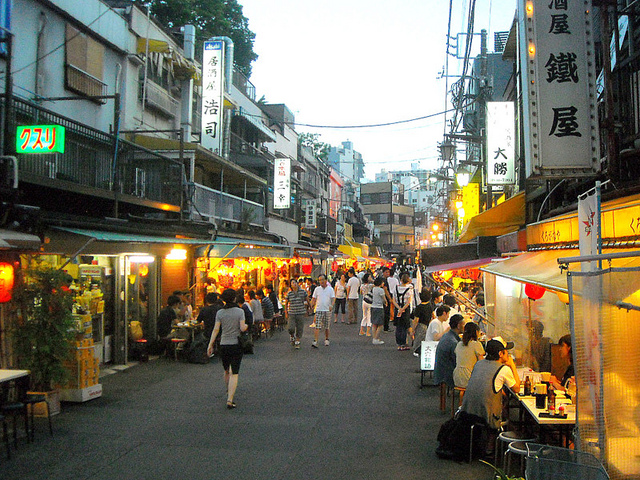 And although it isn't in the '2~3 minutes away' group, the world famous Tokyo Sky Tree is only one stop away, on the Toei Asakusa Line. (That station is on the same corner as the Tokyo Kitchen and Kyokushin Karate locations mentioned above)
I mean, for what more could you possibly ask? Get over here, and make a day (and night) of it!