Mokuhankan 'Print Parties'
A 'don't miss' activity next time you're in Tokyo!
Public Health Situation
The Mokuhankan Print Parties, and our Asakusa shop, are now closed. Most of our employees have been sent home, to do as much of their work as possible in isolation. Our printing staff - working away from the public view - are very busy trying to keep up with their work, and our shipping centre (isolated from Tokyo) is operating as normal, so online and subscription shipments should continue as usual.
We will continue monitoring the situation, studying the advice from the public health authorities, and will re-open the shop when it seems appropriate to do so. Thank you for your understanding.
---
Print Parties!
What is a Print Party? - a one-hour session for you (and friends) at the Mokuhankan woodblock printmaking workshop in Asakusa, Tokyo
What goes on? - pre-carved woodblocks, tools and all the equipment for printing is prepared. The Mokuhankan staffers will take you through the process of making your own prints from them.
Where does it happen? - the Mokuhankan workshop is located in the popular district of Asakusa. To get to our place from the steps of the main Sensoji Temple takes less than two minutes!
How much does it cost? - a participation fee of 2,000 yen per person (discounted for families or groups.)
How do I join? - a calendar below shows available dates and times. You can make a reservation even before you leave your home country! (Or if you're still not sure about your schedule in Tokyo, we can send you a reminder email when you arrive ...)
Are you planning a trip to Tokyo? If so, then of course you'll be coming here to Asakusa ...
... so while you're in the neighbourhood, stroll over to Mokuhankan and make yourself some woodblock prints!
---
A typical party ...
As described in the sidebar above, making your own print to take home - with the assistance of the young Mokuhankan printing staff - is of course the main activity at a Print Party, but it's not all you will do:
You won't be making just a single print during your time at the Print Party bench; the learning curve is not so severe, and we usually see excellent prints coming off the blocks! (Perhaps we'll offer you a job! :-)
Part way through the session, the printing paper will need re-moistening, and that'll be your time for a coffee/tea break (complimentary of course), along with some nice Japanese snacks. (No Baren Cookies yet, unfortunately!)
And of course we have a shop here too, where you can browse and hopefully find interesting items for yourself, or as souvenirs for friends and family back home.
This is also a wonderful way to spend part of a rainy day in Tokyo!
---
Our Shop
Our shop is on the south side of the famous 'Roku-dori', one of the most interesting streets in the Asakusa area of Tokyo.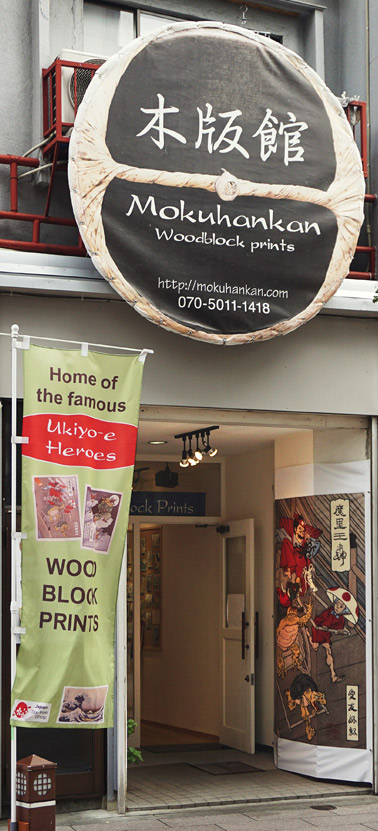 When you first come in, you will see the shop area itself, with a good selection of our prints available, and a special display we have prepared of 'Living with Woodblock Prints', showing you some of the ways that we have created that let you enjoy your beautiful prints without framing them up on a wall. Behind this is the 'event space' where the Print Parties are held ...
---
Shop Information
The street address is: Asakusa 1-41-8, Taito-ku, Tokyo. Our phone # is 070-5011-1418, and the shop hours are 10:00 am to 5:30 pm (closed Tuesdays).
---
Access Map
It just could not be simpler to get here. From the main Kaminarimon Gate, head up through the Nakamise shopping street. Just before you get to Sensoji Temple, at the point where the shops on the left side end, turn left onto the famous Denpo-in Dori (street). Walk along, under the giant red Torii, and at the place where five streets join together, we are now five seconds away, on the left side of the main street right in front of you ...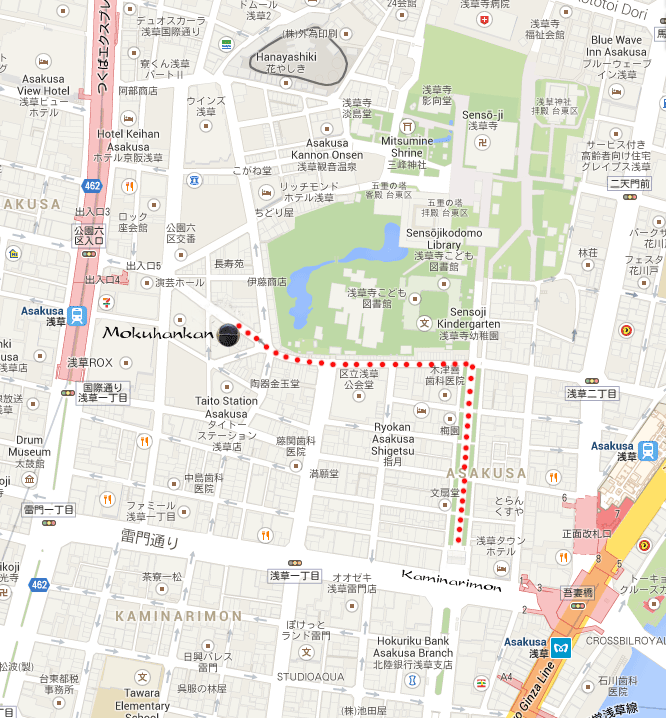 When you're on your way to our place, you can watch this video [(coming soon)] walking that same route to help you get here. There is also an alternate route [(coming soon)] for that rainy day, that stays mostly under cover. Also, do you see the other train station - just to the left of us on that map above? That's the Asakusa Station for the new Tsukuba Express, which you can catch at Akihabara ... which is surely on your itinerary, no?
---
The Trip Advisor community loves us! Click these to read our reviews ...
And on JapanTravel.com ...
---
Print Party pricing
Our pricing is very reasonable:
One person: 2,000 yen
Additional people in group: 1,500 yen each
Age limit: The activity is not suitable for very young children. The age limit for participation is

ten years and up

.
Please note that any youngsters present must be part of a family group; we cannot do the activity for children only.
---
Reservation Calendar (showing spaces available)
We have three or four 1-hour Parties scheduled most days; their starting times are shown here.
Numbers in [] brackets are the spaces available.
Choose the time you wish, and click it to bring up the reservation form.
Time slots

in red

are full up (or not available).
If you wish to reserve a time farther down the line than is shown on these calendars, please just use the Contact Page to let us know what you want.
No advance payment is required.
Depending on staff availability, we sometimes also offer another time slot not listed here - 16:00. If you would prefer one of those times, please just write and ask.
If you have previously made a reservation, and want to change something, please use our Contact Form to let us know.
---
(The calendar will display here when we are again able to accept reservations ...)
---
'Jog me' service ...
Now, hands up all of you planning a trip to Japan who know already what days you will be free when you arrive in Tokyo ...
I thought so. You have no idea. So we offer a "Jog me, please!" service. If you think you might be interested in joining a Print Party when you are here, but don't yet know when/if you will be available, use our Jog Me! form to give us your name, email, and anticipated date of arrival in Tokyo. The form allows you to select how and when you would like to be reminded about these Parties.
There is of course no obligation for you then to attend a party; you may not have time. Simply we are trying to make it as easy as possible to make this happen ...
---
Do you like cooking?
We don't do any cooking here at Mokuhankan, but we have a great idea for those of you who like to put on the Chef's Hat. Ms. Yoshimi Daido - a most elegant and wonderfully conversant young Japanese lady of our acquaintance - runs Tokyo Kitchen, "a place where you can learn to cook authentic Japanese home dishes in English in a friendly atmosphere."
She's located about a four~five minute walk from us, and it would be a great way to spend a day in Asakusa: cook up a storm at her place in the morning, eat your own creation for lunch, then stroll along Denpo-in street to Mokuhankan for an afternoon Print Party.
---
Other Attractions
Are there other interesting things to do in our neighbourhood? Yes, indeed! There is far too much to list here! On a separate page we have prepared a little map of the area within a two~three minute walk, along with lots of photos and more details about what to do nearby ...
But this photo - showing the evening scene just a 5-second stroll from our front door - might just give you a feeling for what our neighbourhood is like!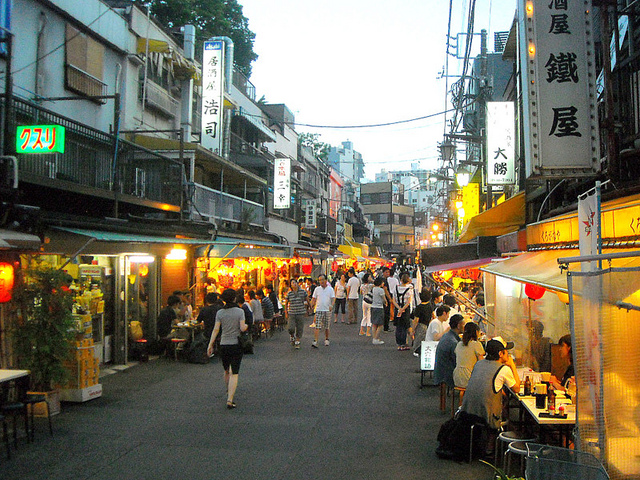 ---
Some Background on the Print Parties
The Print Parties had their start back in 1989, when Dave carved a simple set of four blocks and took them to the 'Culture Festival' being held at a local community center.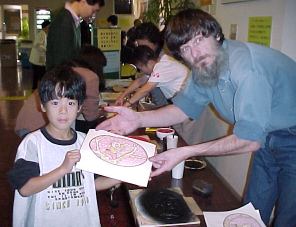 He prepared four brushes, four bowls of pigment, and four printing barens, as well as a thick stack of paper. Within a few minutes of opening up in the morning he had a line of people waiting their turn, and the action didn't let up until the event was over that evening. Hundreds of people made their way along the table, using the tools and materials - under his watchful eye and guidance of course - to make their own woodblock print. It was so popular that it became a regular part of the annual Festival, and he took a fresh set of blocks along every year.
Skip ahead to 2012 and the start of the Kickstarter campaign for the Ukiyoe Heroes woodblock prints. Jed and Dave were thinking of ways to make the campaign more interesting, and decided to include an option for any backers who might be planning to be in Japan soon, to visit Dave's workshop for a 'Print Party', based on the same kind of activity. It was limited to 12 backers, sold out in minutes, and the parties were hugely successful!
So here we are; based on those experiences, Dave has set up a room in his Asakusa workshop specially dedicated to Print Parties! And you don't have to line up, because you can book in advance!
We hope to see you soon!