Rich Media eBook: Your First Print
Author: David Bull
ISBN: 978-4-90367214-4
Available: The book is available for immediate downloading. When you place an order from this page, the download link will be automagically sent to you a few seconds after completing the transaction. A couple of minutes later, the book will be on your desktop.
Rich Media: The eBook contains approximately 60 'pages' (each one actually a wide-screen 'spread'), as well as many photos in high-resolution format. In addition to the standard text+illustration material, it also contains links to numerous audio and video clips showing every important stage of the printmaking process.
Playback: This is not a DVD - the eBook is a single file in .pdf format. It will display on any normal computer or tablet. The audio and video files are stored on our servers, and are linked from the relevant pages of the book. You will need to be online to play them, although the book itself - images and text - are of course always present.
From David's introduction: "In recent years, there has been an explosion in the amount of material available to the person who wants to learn about Japanese woodblock printmaking. Both on the internet and in printed books, the beginner has access to so much information that it can be difficult to know where to start. That is where this book comes in. Remembering back to the days when I was first exploring this craft, I have created the book that I desperately wanted back then, but which didn't exist - a book that included everything that I needed to know. I have tried to create a highly practical and focussed guidebook that will take you - step by step - completely through the process of creating your first print, answering (hopefully) all the questions you will ask along the way."
Download Version: $ 7.50£ 6.00€ 7.00 (for the 'Rich Media eBook' - you will receive a link where you can download the book in .pdf format. You will not receive a physical copy of the book.)
includes all text and images
to play video and audio content, an internet connection is required

CD Version: $ 12.50£ 10.00€ 11.50 plus $1.50£ 1.20€ 1.25 postage (for the 'Rich Media eBook' in .pdf form delivered on CD-ROM)
basic content (text and images) same as the download version, but images are higher resolution, allowing full-screen 'zoom in' for each one.
requires Adobe Acrobat Reader 9 for proper viewing.
video and audio content are embedded in the .pdf file, so no internet connection is needed for playback. (If you don't have broadband, this is the way to go.)
video is encoded at a higher resolution than the download version
a complimentary link to the downloadable version is also provided (immediately after purchase), so you can begin reading while waiting for your CD to arrive.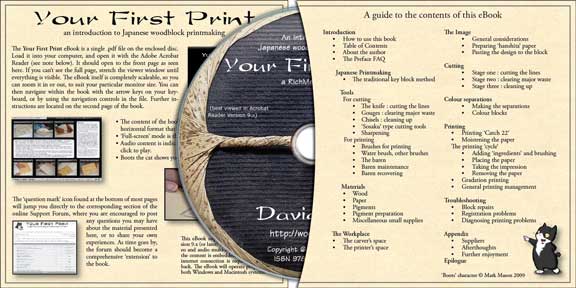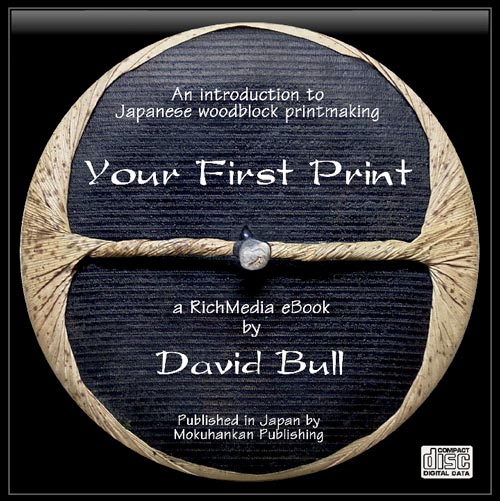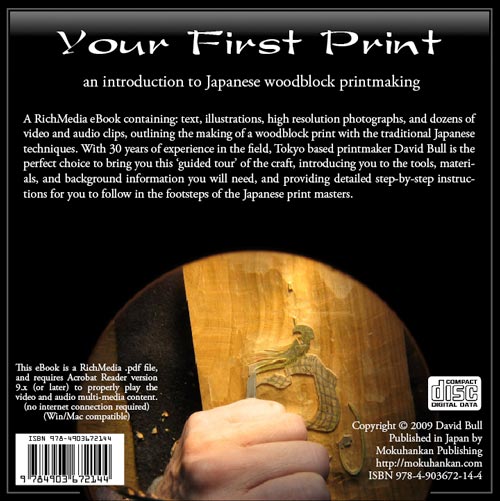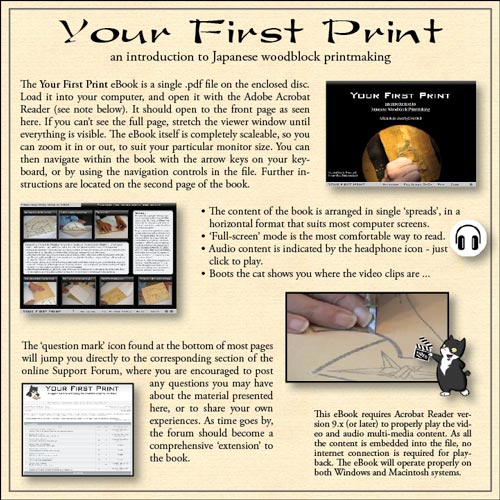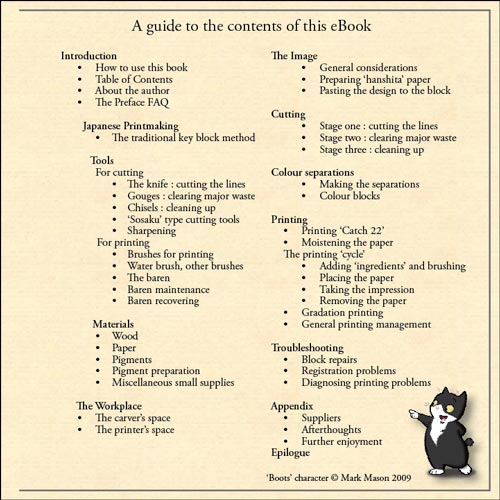 Future editions: It is intended that the book will be incrementally improved over time with corrections, edits, and added content. When these editions are issued, the following policies apply:

all owners of the book have free upgrades to all future download editions. Each time a substantial update appears, an email with a fresh download link will be automatically sent to the address you gave when first purchasing the book.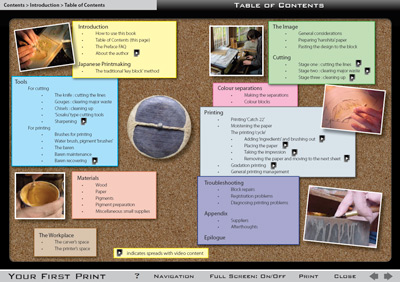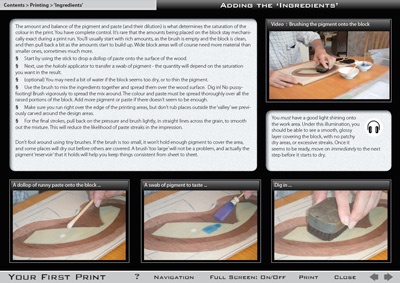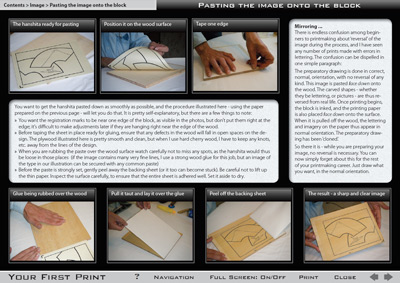 "An amazing work. Your presentation is impeccable as usual but I am totally floored by the professional design and technical meticulousness! ... I sat down this morning and couldn't 'put it down'. It is an excellent amazing achievement."
"Absolutely FABULOUS! ... even veterans of MANY prints will find some very useful information and technique. ... THANKS SO MUCH for doing this!!!"
"This book is absolutely STUPENDOUS! Even though you've called it 'Your First Print,' carvers and printers at ANY stage of their profession will find it incredibly useful."
"This is an outstanding, first-class innovation in publishing. Your usage of the available technology is masterful. You have re-defined the concept of 'textbook'."
"... this eBook format you decided to use offers wonderful opportunities that are impossible to achieve with a regular 'analog' book. The video clips and audio clips all not only help to clarify what you are trying to explain, but also give the book a very nice personal touch (the latter especially applies to your audio clips)."
"... a state-of-the-art rich media e-book the likes of which I haven't seen... :-) BRAVO!!!"
"You will be astounded by the beautiful presentation. You will learn. You will make better prints."
"I have been reading and re-reading your wonderful book, and I am just finishing a print that represents a great advance in technique, mainly because of your fine teaching. I like most of all the audio portions of the book--it is as if we are sitting together sharing a cup of tea and you are warmly reminiscing and reflecting on the pleasures of your work in an endearing way."
"I am blown away by the detail. The video and photos are absolutely super! I believe that a person having no knowledge about Japanese Woodblock would be able to walk away from this cd and be able to actually print a block! What a remarkable achievement."
(These are getting embarrassing! But not so embarrassing that I don't want to hear any more ... Keep 'em coming!)