「百人一緒」 (Hyakunin Issho Newsletter (Full set))
Size: 25cm by 17cm | Enlargement | Shipping Code: [E]
Price: $ 50.00£ 35.00€ 40.25

Description: My quarterly newsletter was published from the fall of 1989 through 2012. The name - Hyakunin Issho - (One hundred people, together) originally referred to the 100 people who were collecting my set of prints based on the old Hyakunin Isshu poetry series, but once that series was completed, I decided to keep the same title.
I sent it out every three months or so, mailing it to all the people who are collecting my prints, and to friends or others with a particular interest in my work. I always printed up more copies than I need, so we still have back issues here in our storeroom.
If you would like to have a complete set of these newsletters, here they are ... from Volume #1 of autumn 1989, right up to the final issue. They are all fully bilingual - English and Japanese.
Because the deck is so heavy, the postage is expensive; even at the reduced 'overseas book rate', it's still over $20 to send these out. So I have priced the package at a flat $50 (postage included).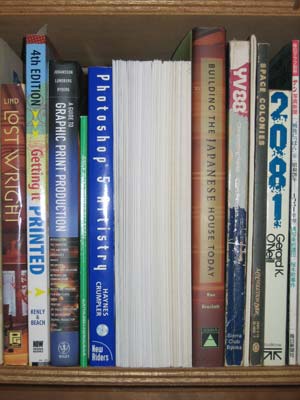 I should mention that the entire content of these newsletters is always available online on my website, free for anybody to read anytime. This set is simply available for those - like me! - who like to have physical copies of favourite books parked on their bookshelves. About two inches of shelf space, in this case!