サギとカラス (Heron and Crow)
Designer: Isoda Koryusai | Carver: David Bull | Printer: Ayumi Ohashi
Size: 15cm by 11cm | Enlargement | Shipping Code: [HC]
Price: $ 30.00£ 21.50€ 24.25

Description: This beautiful little print is a small-scale reproduction of a kacho-e (nature design) by Koryusai. To make the print, I carved the image onto blocks of mountain cherry, and then used fine quality hand-made Japanese paper to pull the impressions.
Shall we zoom in a bit closer?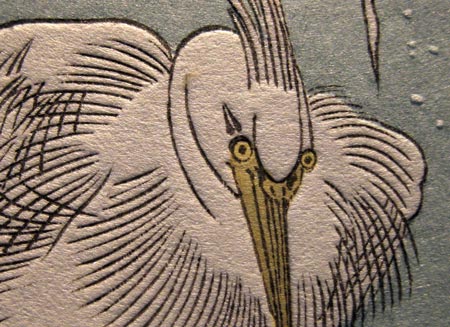 A special feature of this kind of print is the way that the printed lines get embossed into the paper. To see this in the way that the viewers of that century did, one must turn off any overhead lighting and hold the print near a window or lamp. The light falling horizontally across the print will then highlight the embossments and allow the full texture of the beautiful Japanese paper to be enjoyed. Let's go a bit closer still ... (these next two shots were taken under my desk lamp ... a different 'colour' of light ...)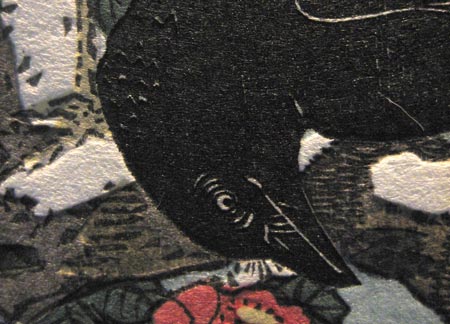 And ... just because we can ... still closer!