A Story A Week
Perfect bound book (6 x 9)
Printed Versions: Price: $ 9.00£ 7.25€ 8.25 | Shipping Code: [S]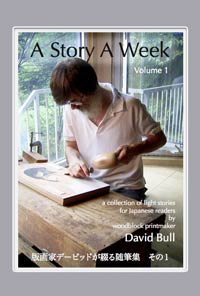 These are collections of stories from my A Story A Week website, which has been running non-stop since January 2006.
A Story A Week had its origin in the stories that I wrote on request for the Mainichi Weekly newspaper for a few years in the mid 1990s. I very much enjoyed the assignments from the editors, especially the challenge of trying to say something interesting in the extremely short space that was available.
Feedback from the newspaper stories was usually positive, and it seems that many readers enjoy my short familiar episodes. My writing style - familiar and simple, but without babying the reader - is well suited to this genre, supplying material for educated Japanese readers to practice and expand their English reading skills.
Since then, I have learned that they are also being enjoyed by 'normal' English readers, and as it has turned out, their original purpose of training material has now been lost in the past, and they stand on their own these days ...
Important note on these books: if you are located in the US, it is far cheaper for you to obtain them from Lulu, the 'print on demand' service. They will run off single copies to order, and the printing quality is very good. (This doesn't work for people living in other areas, as Lulu charges exorbitant shipping rates for addresses out of the US)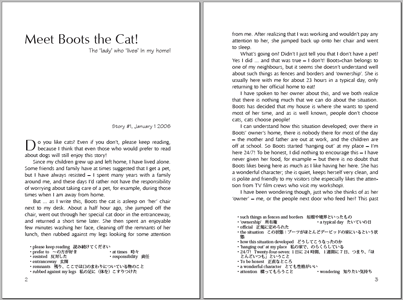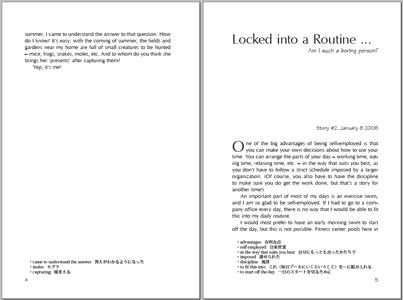 A new volume in the series is published every six months:
Volume 1
86 pages、26 stories
ISBN 978-4-9036-7201-4

Volume 2
86 pages、27 stories
ISBN 978-4-9036-7204-5

Volume 3
84 pages、25 stories
ISBN 978-4-9036-7206-9

Volume 4
88 pages、27 stories
ISBN 978-4-903672-07-6

Volume 5
86 pages、26 stories
ISBN 978-4-903672-10-6

Volume 6
86 pages、26 stories
ISBN 978-4-903672-11-3

Volume 7
82pages、26 stories
ISBN 978-4-903672-12-0