« Edo Superstar - Kickstarter is now open! | Front Page | Key block done! »
Next 'Ukiyoe Heroes' print is under way
Posted by Dave Bull at 12:07 PM, August 13, 2013 [Permalink]
Dave's juggling act contiues, with the focus now switching back to the Ukiyoe Heroes project. I say 'juggling' and that's not a bad metaphor - I seem to be grabbing at each piece of work just before it crashes on the floor ...
I've done a couple of days work on the keyblock, starting with the horde of rats down at the lower edge of the image, and have got this far: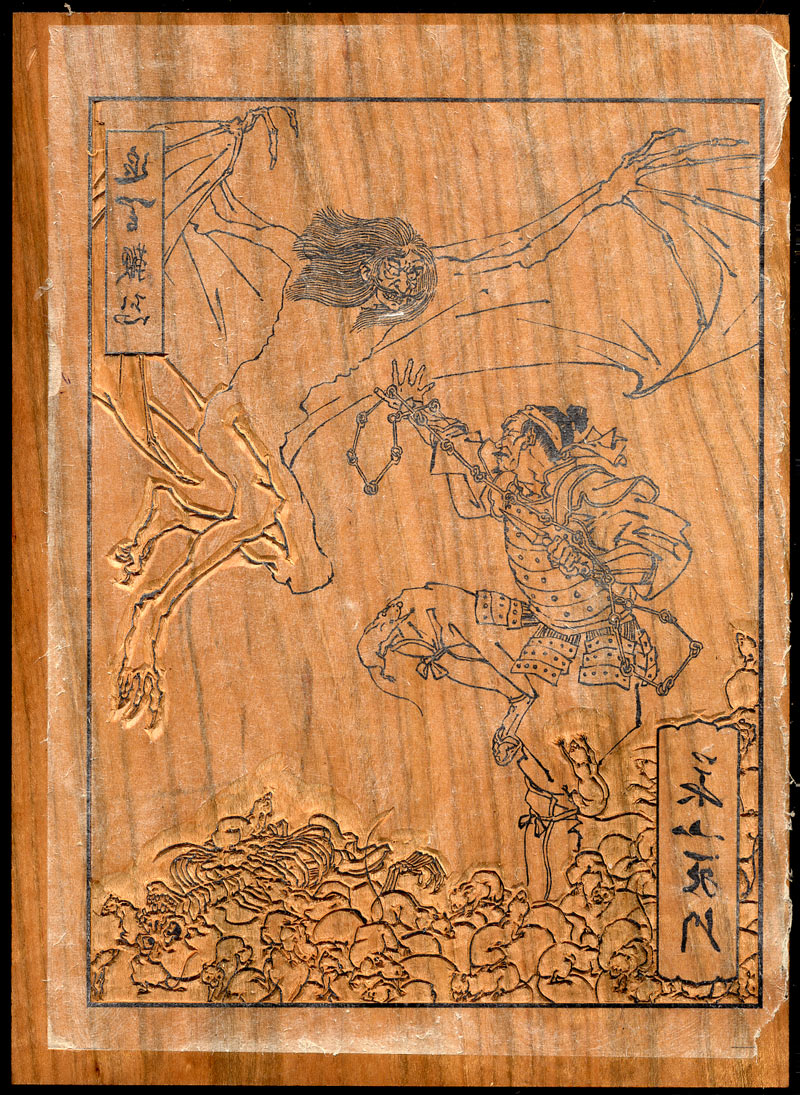 It's difficult to see the actual image parts until the block gets washed later, but this is a skeleton ... Seems like this 'chilly' design isn't a bad print to be working on during this very hot summer we are having!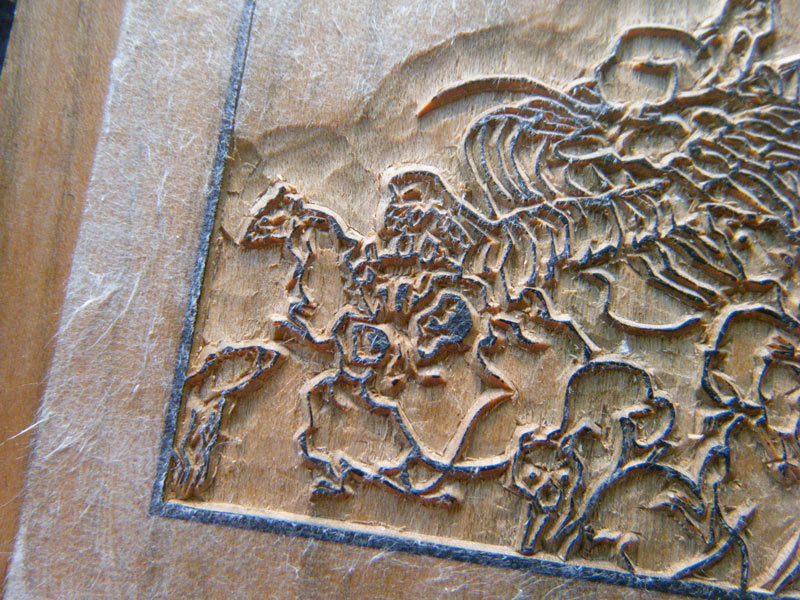 Young printer Tetsui-san is booked to do this one, and when we made the arrangements a while back, I told him the block set would be ready by August 20th, and he set aside a block of time to match. I'm clearly not going to make that deadline, so will have to call him up and re-negotiate. If I'm lucky, he will have another (smallish) job that will slide into the slot; if I'm not, he will have nothing standing by, and I will have to pull some older blocks out of my storeroom and send them over to keep him busy ...
Added by: Dave on August 13, 2013 7:21 PM
Update: it turned out that Tetsui-san is running late on his current job, and was getting up the courage to call me and let me know that he wouldn't be able to start my job as scheduled on the 20th. 'Good news' all around ... sort of!

Added by: Margaret Maloney on August 13, 2013 11:00 PM
Phew!

Added by: Michael Kohne on August 13, 2013 11:08 PM
It's always nice when everyone's calendar problems match up!

Added by: Jeremy Pearse on August 14, 2013 10:47 AM
Finally work begins on my favorite image of the series! I'll be watching this one closely........