« Infestation ships | Front Page | Grab bag ... »
New workroom - first tryout!
Posted by Dave Bull at 11:50 PM, May 20, 2013 [Permalink]
As promised the other day, I can bring you a few snapshots of the first tryouts of the new workroom today (Monday morning) ...
With the floor in place quite some time ago, and the ceiling 'done' last week, attention turned to the walls. We're going to use a mix of techniques, and this side wall is getting a simple frame with fiberglas insulation. This was Sunday afternoon: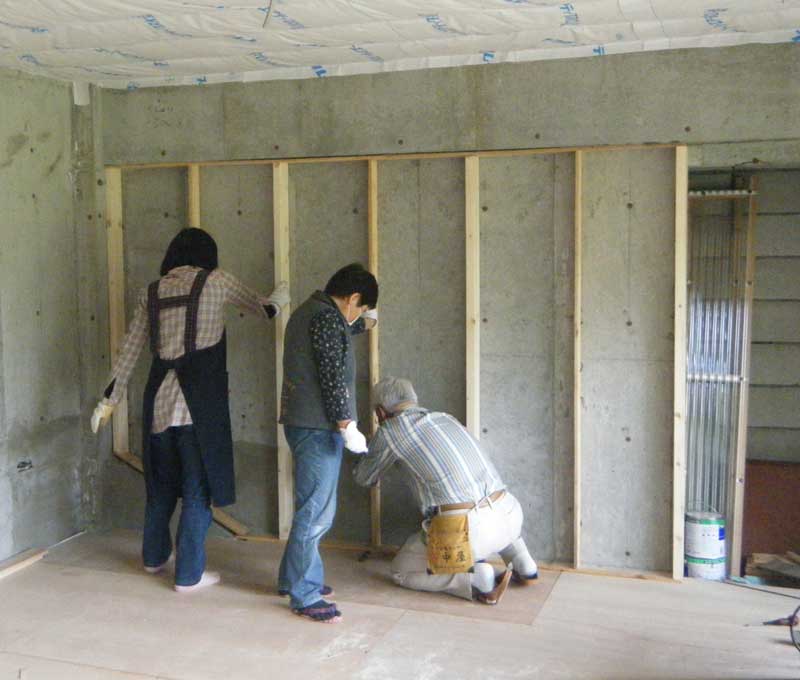 With that done, the crew began work on the rear wall, and got some of the framing done before knocking off for the evening. So the room is still far from finished, but today - the Monday morning - we had four printers scheduled for work and only room for two of them, so before they arrived, I pushed aside the construction materials and moved the parts for the two new workstations into place: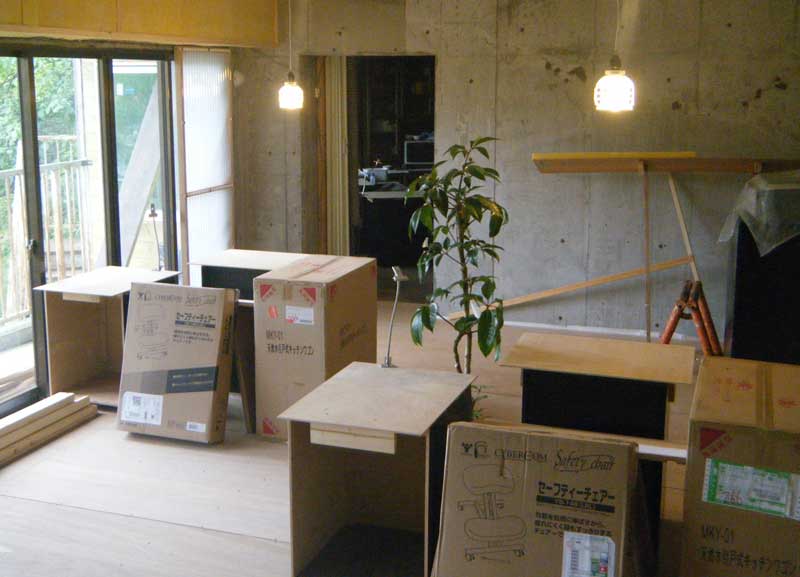 The first two printers arriving sat in the present workstations (in the 'old' room), and got straight to work. This is Tsushima-san (foreground) working on Jed's new TOP SECRET project, and Ayumi-san working on an Eisen kuchi-e reproduction (we'll blog about both of these a bit later ...)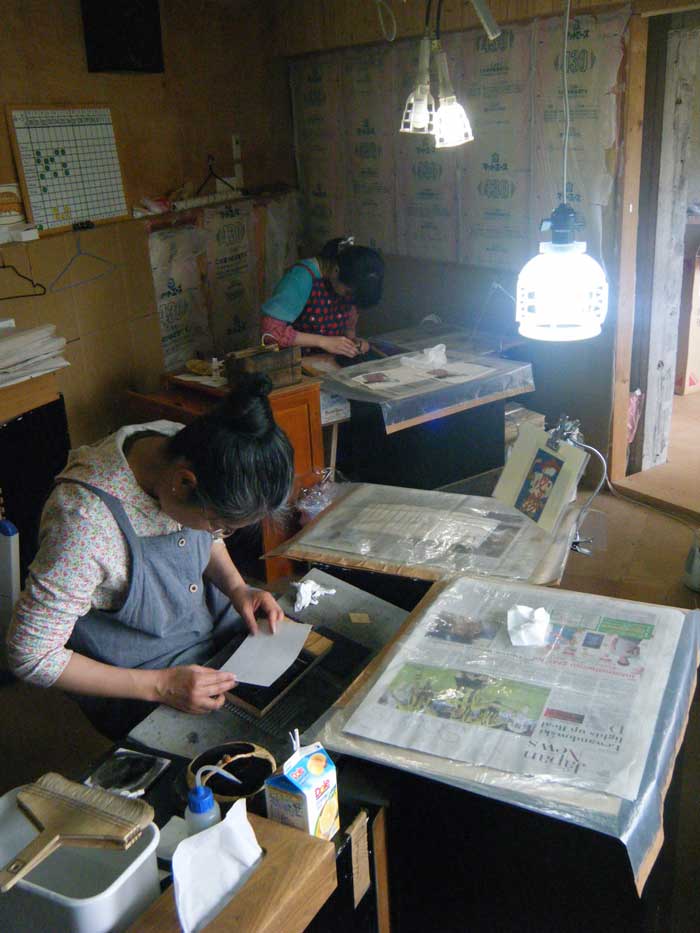 A short time later, Fujii-san arrived and became the first person to try the new workstations, followed a bit later by Shiba-san, seen here assembling one of the new stools: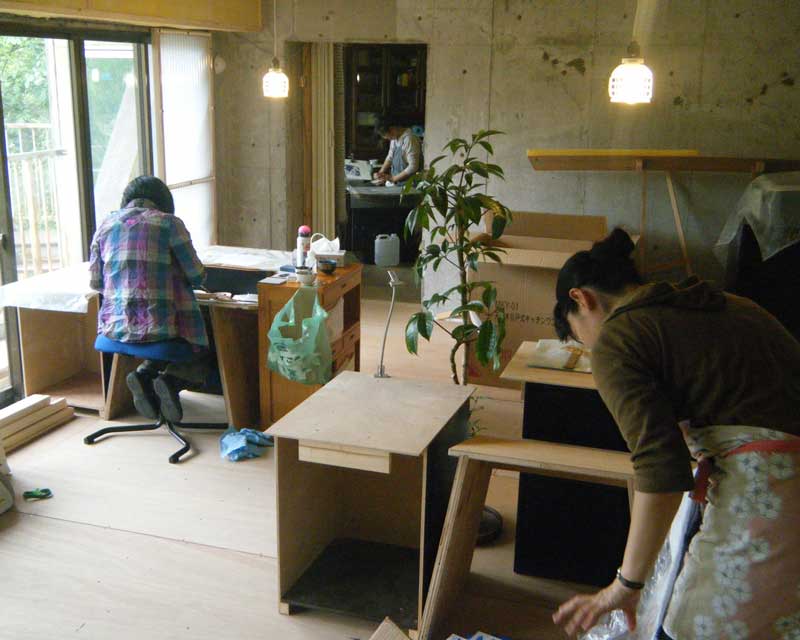 I didn't have a whole lot of time to stand and watch, because I'm busy with carving the current Chibi pair, and I'm way behind schedule - the printing of this one should already have started by now, in order to get them all ready by the end of the month.
But once everybody had gone home in the early evening, I took another quick photo of the new workspace. These two benches will have two more situated behind them (once the construction junk is out of the way), with the four places laid out in a staggered arrangement.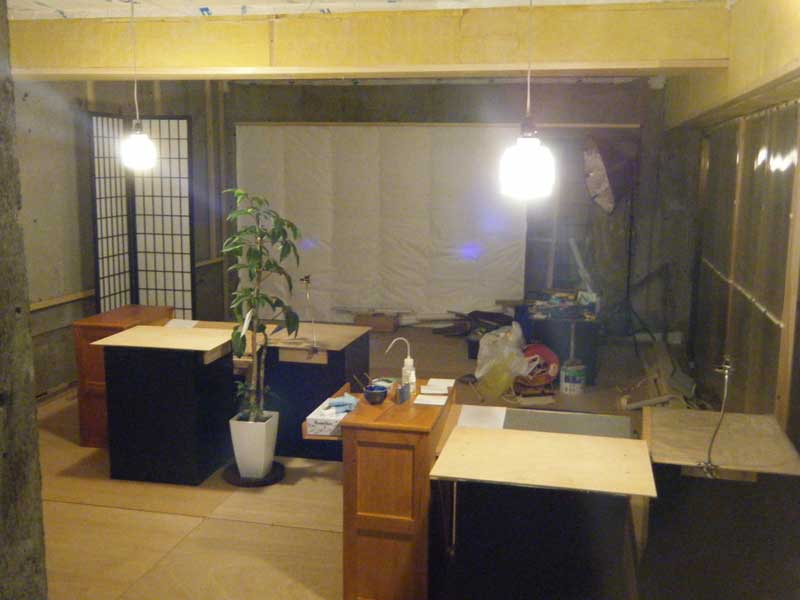 It is going to be a very nice space to work!