« Construction update | Front Page | More Catalogue Catchup! »
Posted by Dave Bull at 3:04 PM, March 1, 2013 [Permalink]
Among many other things that have been neglected recently in the push to make the Heroes prints has been maintenance of our own catalogue. The ladies working here as printer trainees have all actually been very busy with new work, but I myself have been too tied up with the other stuff to get the accompanying paperwork ready for those prints.
Well, last night I burned the midnight oil a little bit longer than usual, and finally got a half-dozen of their recent productions into our catalogue.
Here's a quick intro to them, with links to the full catalogue pages. [The first link in each pair is to the main 'large screen' website, and the second one is to the older 'standard' site ...]
The first group of prints are made from the blocks I carved when making my own Surimono Albums series.
Evening Rain at Eitai Bridge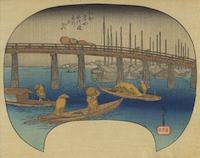 A reproduction of an old Hiroshige fan print, beautifully executed by our youngest printer, Ayumi-san.
Winter Landscape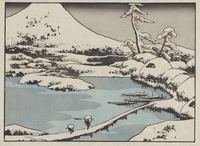 A scene from a Hokusai picture book - famous for the way that he 'lopped off' the top of Mt. Fuji ... abode of the gods!
Mandarin Ducks
Many people have asked for this one to be reprinted since the time that my own Surimono Album went out of print. This one was done for us by Hirokazu Tetsui, the young man who is doing much of the printing for our Ukiyoe Heroes series.
Sparrows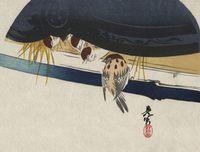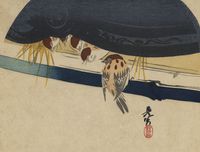 Here is a Zeshin design of a sparrow's nest, and we have made it in two versions: one 'clean', and one 'aged'.
[Links: 'clean' 1 2 ... 'aged' 1 2]
I've got another five or six left to post - these are the smaller size 'hagaki' prints. I'll try and get to it tomorrow ...
Thanks for watching!