« Construction (finally) begins ... | Front Page | The Hero Rests »
Posted by Dave Bull at 10:59 PM, February 4, 2013 [Permalink]
Some quotes from emails received recently:
Not having seen or heard from you on the webcam and in your weblogs for a couple of weeks now (which is very unusual for you!), I am starting to get a bit worried. Is everything OK over there?
Have not seen anything coming out from the workshop in over a week just wondering if all is ok!
I haven't seen an update on either of your blogs in a while, I'm hoping all is well with you.
It's kind of heart-warming to feel that people are 'watching over me' so well! :-)
I'm sorry to have let things slide this far; I am absolutely 'OK', and the reason for general silence is the one that you can guess - it's simply the work pressure. There is just so much going on every day, and I usually get started so early each morning, that by the time late evening arrives - my usual time for updating the blogs - I just don't feel the energy to even reach for the mouse, let alone do the photo editing, write the entries, etc. etc.
It's a shame really, because a lot of what is going on here these days is good interesting stuff ... perfect for blog material!
Anyway, let's have a kind of compendium update this evening, to try and get things back on track a bit:
Chibi Heroes
Our new subscription series is off to a huge start, with just around a hundred collectors already signed up and receiving a new pair of prints every month. Here's a preview of the one we are printing this week - a snapshot of the block taken just before I began carving. I love Jed's lines!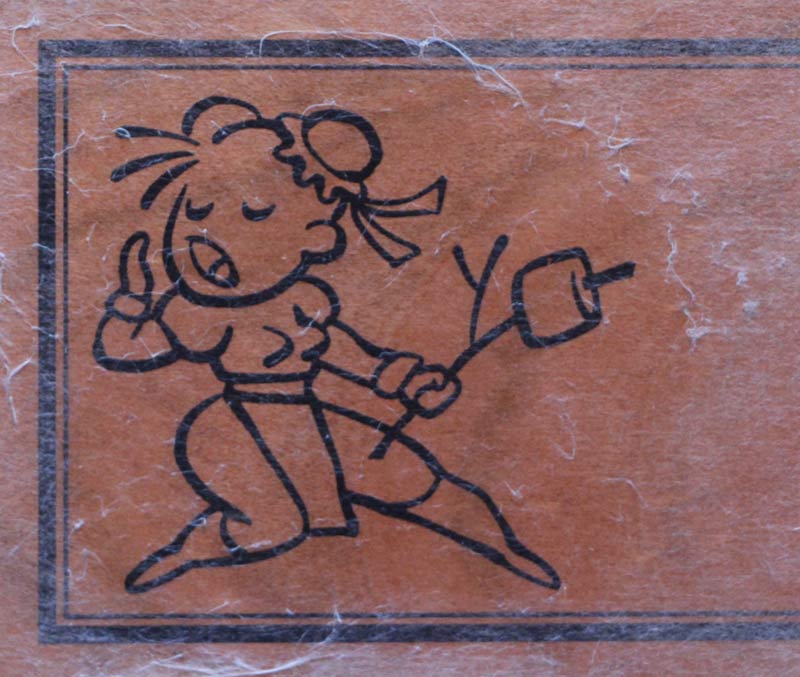 'Antenna' shop ...
We have just started a little experiment based on that Chibi series, putting them into a 'Cube Shop' in the Nakano Broadway shopping district here in Tokyo. You can read more about it in this week's A Story A Week episode.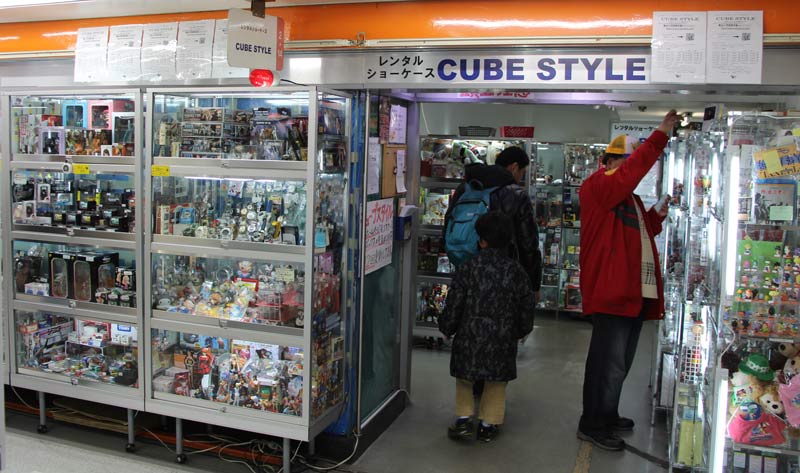 Ukiyoe Heroes
The main 'Ukiyoe Heroes' series is also managing to stay on track despite the incredible volume of work involved. When Jed and I worked out the print production schedule during the first week of the Kickstarter campaign, we did so thinking that there couldn't possibly be more than a hundred or so orders for each print. But orders for the first two we issued have now climbed to over 400 copies each, and this has really hit us hard for keeping the production on track. We're hanging in there though, and the third one - The Hero Rests - is now almost finished carving, and I will be proofing it later this week before sending the blocks over to Numabe-san to begin the printing.
Here's a quick snapshot taken through my desk lens during key block carving a week or so ago: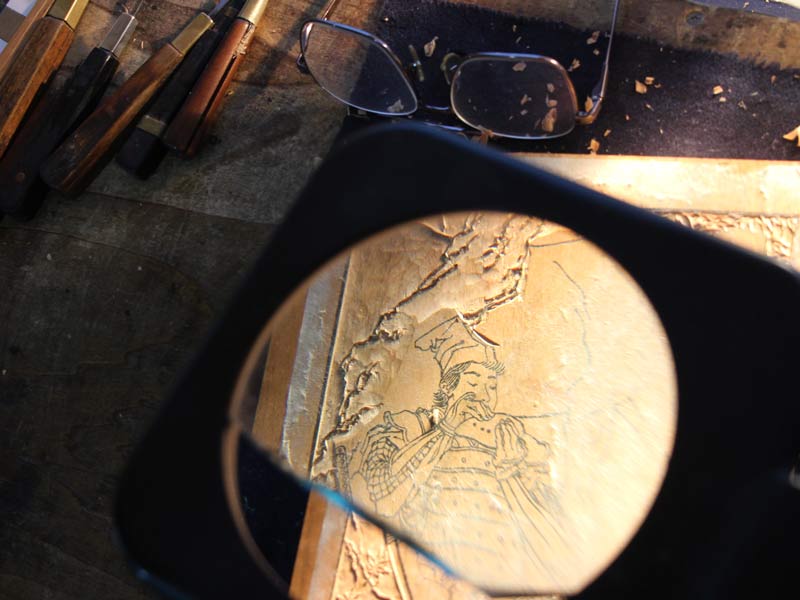 Our other main 'outside' printer - Hirokazu Tetsui - just phoned me this afternoon with the news that he has finished up another batch of our Rickshaw Cart print, which will now finally give us enough copies to cover all the orders. At least for a couple of weeks, we hope ...
Girls Just Wanna Have Fun!
None of the people either coming here to train as printers or to work on wrapping, etc. are full time. We're not big enough to have that much work for them yet, and in any case, most of them are content with coming just a few days each week, having other activities also on their plates. The schedules get fairly complicated, but over the past couple of months, it has turned out that Wednesdays have become the domain of the youngest group of our printers.
Regular Webcam viewers know that when I myself am at the bench, the background music is usually a BBC classical channel. Last Wednesday though, young Fujii-san got hold of the laptop while I wasn't looking, and fired up a Cindy Lauper YouTube stream ... Do we want good rich and deep colours in the prints from our young printers? Then give them a chance to 'dance'!
[Teiko Fujii / Ayumi Miyashita / Ayumi Shiba]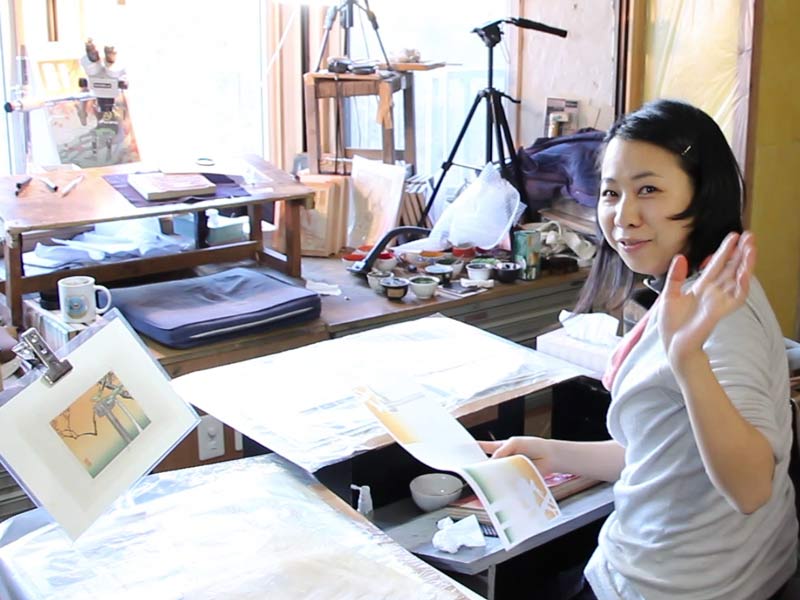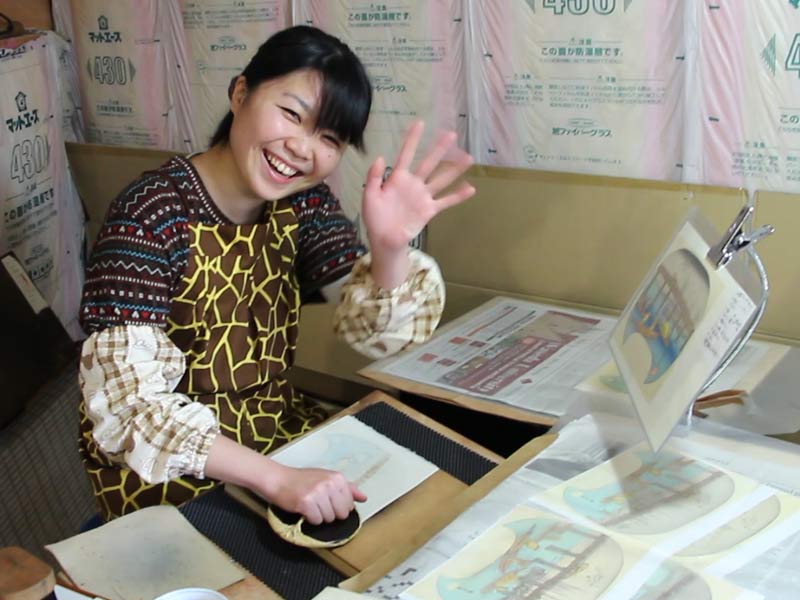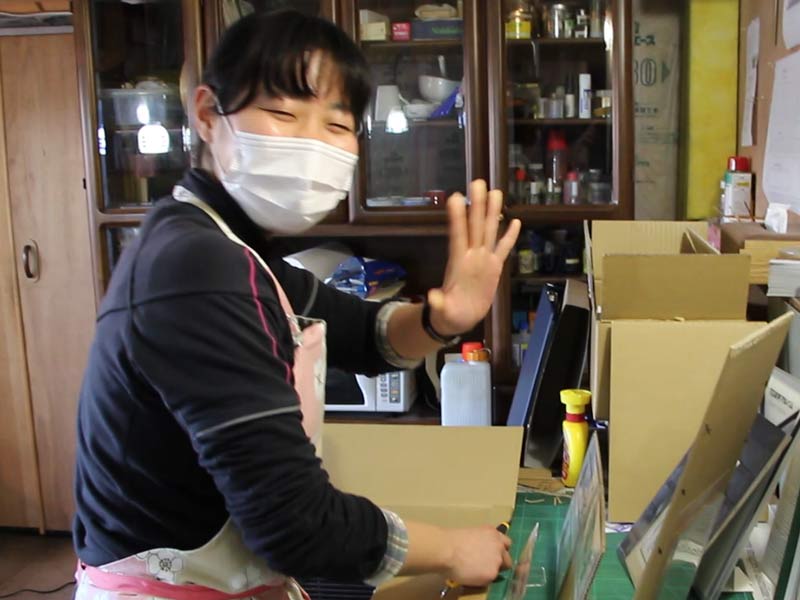 And here are some of the results ... Fujii-san has just finished up a batch of the 'Uguisu' design by Takahashi Shotei that I included in my Hanga Treasure Chest a while back: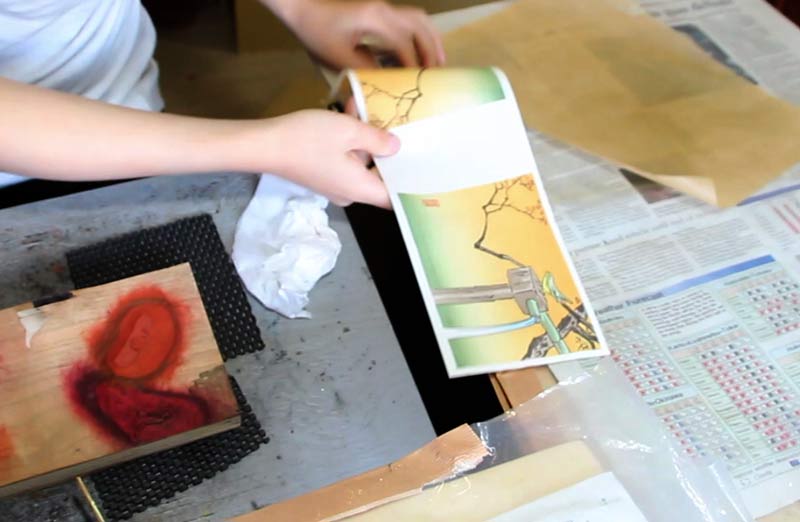 Ayumi-san is making an edition of the Hiroshige 'Eitai-bashi' fan print from my Surimono Albums series: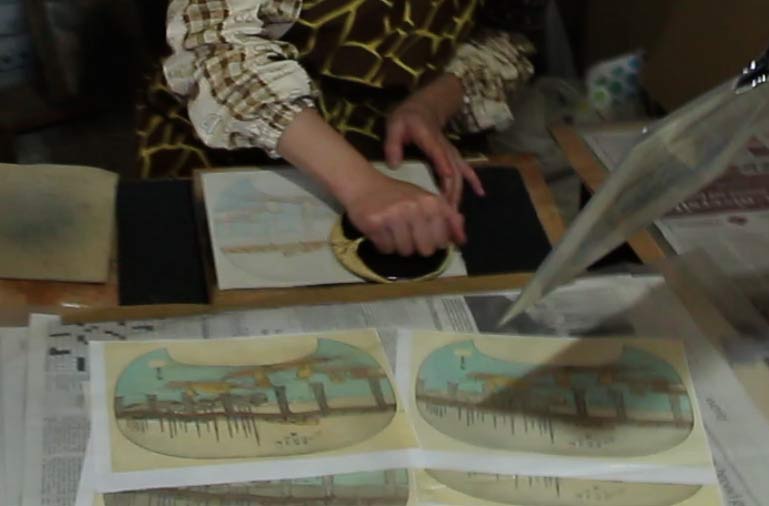 Shiba-san has done some Chibi batches, and will soon begin work on other images for our catalogue. Our other printers are also busy of course; Tsushima-san has just wrapped up a Hokusai landscape design (I didn't get a snapshot of her working on it, but this is one of her proof copies ...) ...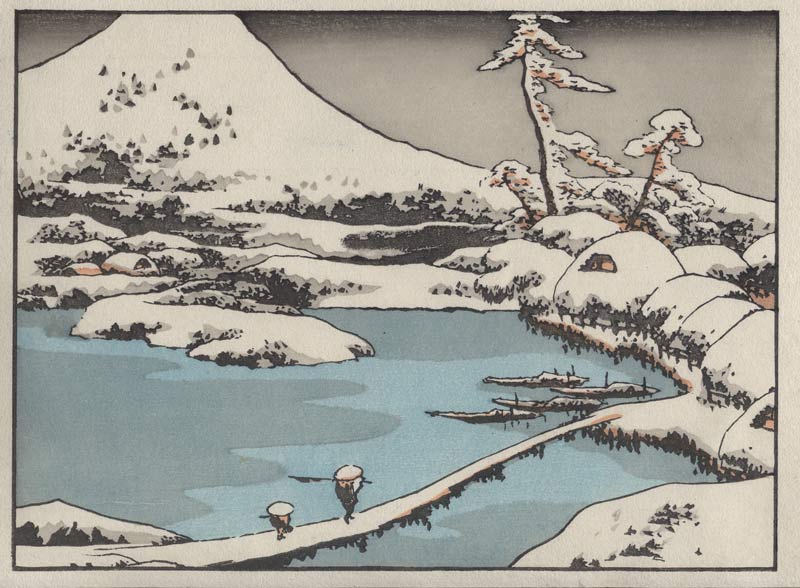 ... and Ishikawa-san is working on a print of a sparrow's nest designed by Shibata Zeshin. Just why she has prints stuck on the glass doors ...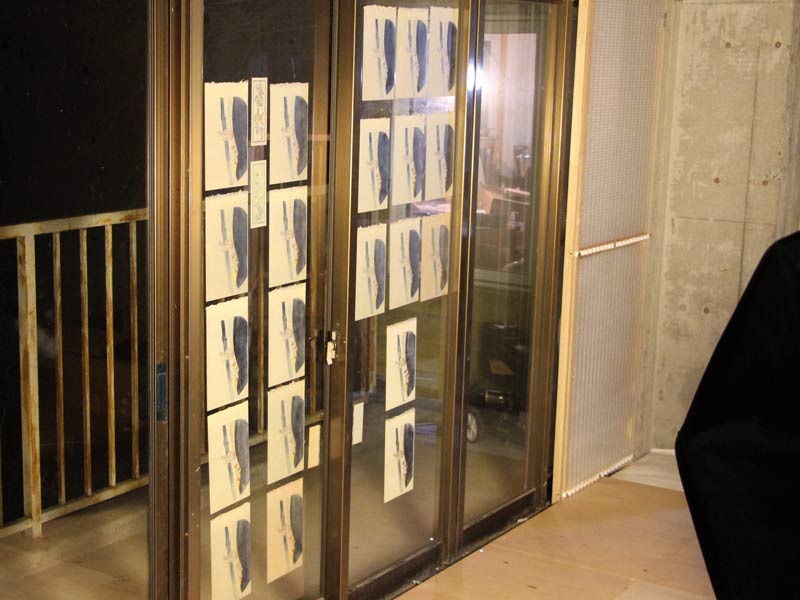 ... really needs a blog entry of its own, which we hope to bring once the print is done!
Workroom Construction
That last photo was taken 'next door' in the new expansive workroom that I am building there. I haven't managed to get very far with the construction - for obvious reasons - but the floor is now nearly down: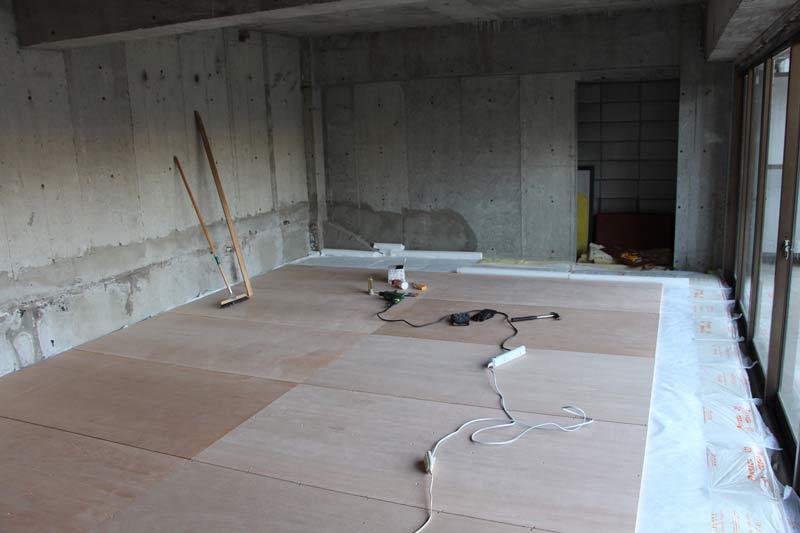 At this pace, it'll be years before we can get in there, but ... we do what we can do ...
YouTube
Over the past few weeks, my YouTube channel has really come alive, and is getting hundreds of views each day. It's kind of a strange feeling to know that no matter what time of the day or night, there are always people 'watching me'. It's been a few weeks now since I uploaded something, but have captured plenty of raw footage of the current print in production, and should have something ready to show in about a week or so.
It's an endless job ... feeding this monster! YouTube ... the blogs ... Facebook ... and not to forget, the print collectors!
... including my own - mostly very patient - collectors, who are perhaps despairing of ever receiving the next print in my Arts of Japan series ... It won't be long now I think; just as soon as I get this 'Hero Rests' out of the way, you are up next!
Thank you everybody, for your patience, and for all the wonderful support of our work!
* * *

And now ... here's a little 'bonus' for everybody who has read this far down the page ...
Jed has been busy working on new designs for the Ukiyoe Heroes series, and recently sent me an image of a design of some 'ninja reptiles'. After he and I knocked some ideas for the colouring back and forth for a while, we ended up with this [Photoshop mockup]: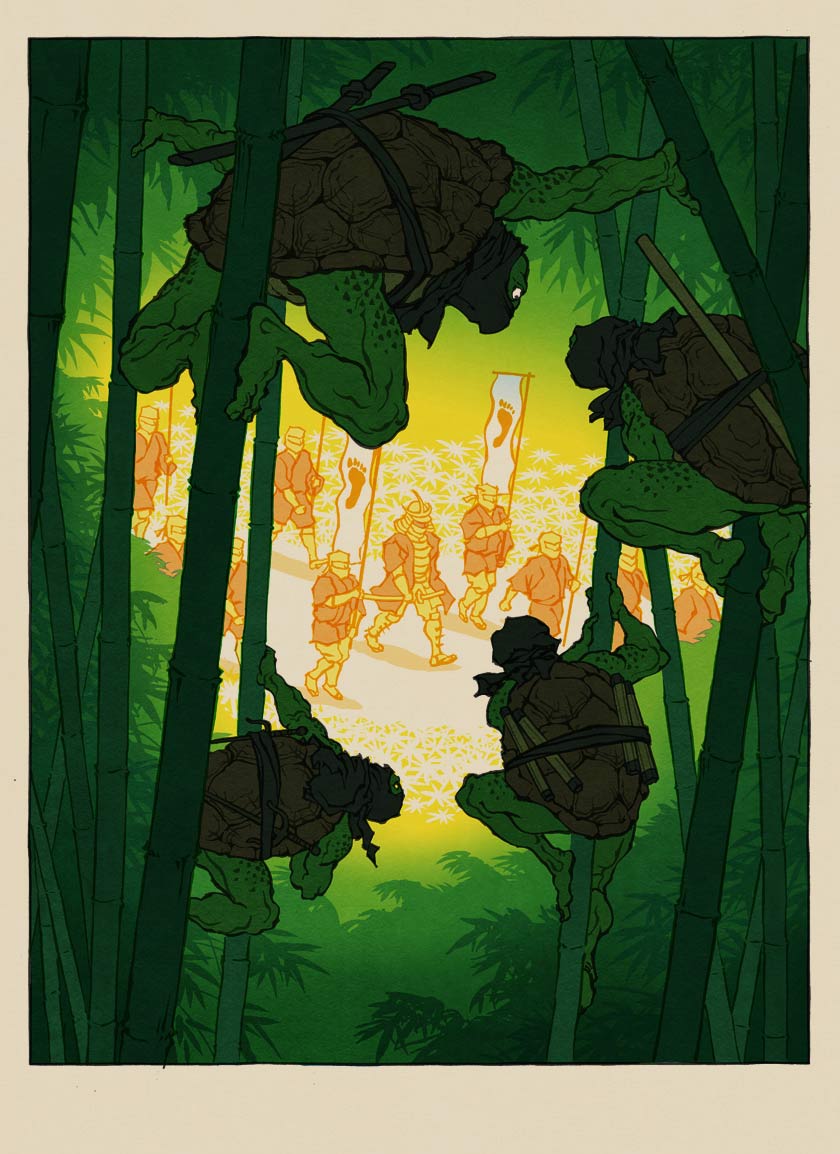 We're moving away from the ukiyo-e roots somewhat, and pushing closer toward a shin-hanga feel with this, but I don't mind that a bit.
I want to start carving tonight! But that's of course impossible ... I'm 'booked' until October on the Kickstarter prints that people have already ordered. Jed is pretty enthusiastic about this one though, so has already opened a page on his site for people to leave their name if interested in hearing about this when it is ready ...
So many projects ... so little time ...
Added by: Margaret Maloney on February 7, 2013 10:34 AM
I admit, I was one of the ones who was sad to see so little on the blog lately—but not too sad, as I was certain it was the volume of work that was keeping you away!
The "ninja reptiles" mockup is gorgeous (not a word I ever imagined I'd say related to that bunch of metamorphized adolescents). Jed has a real way with layout.

Added by: George Jarvis on February 7, 2013 10:29 PM
Whither the Mokuhankan Toolset?