« Ukiyoe Heroes - Staff update ... | Front Page | Chibi Heroes - next pair under way! »
Posted by Dave Bull at 5:20 PM, September 16, 2012 [Permalink]
(Catching up on some long overdue updates ...)
What with all the disruption caused by the Ukiyoe Heroes project over the past couple of months, it has been difficult to find time to get some of our 'normal' work done here at Mokuhankan. But with the Heroes production now moving forward smoothly on schedule, we can catch up a bit.
I posted this photo a few months back - of young trainee Ayumi-san working on a block set from one of my old Surimono Albums: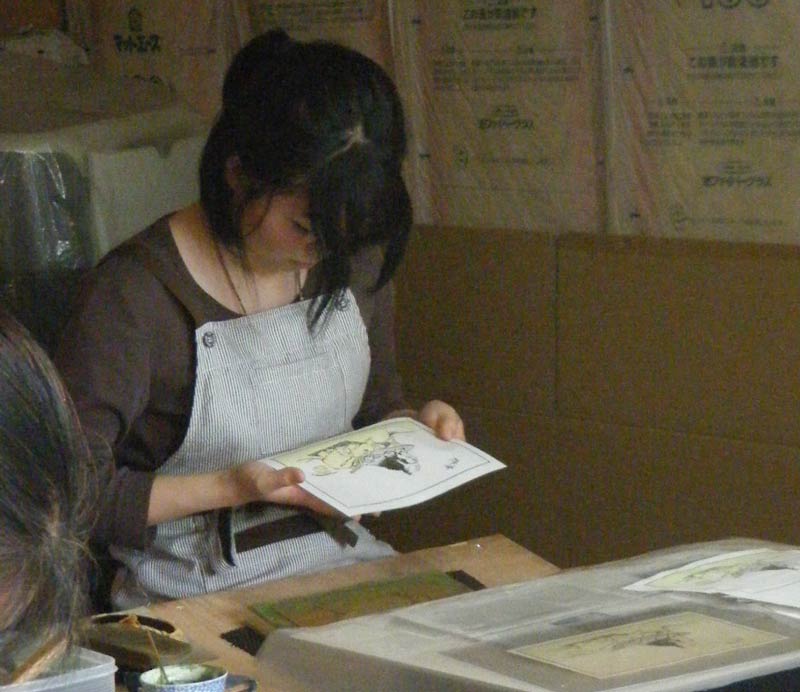 The prints she produced that week turned out very well indeed.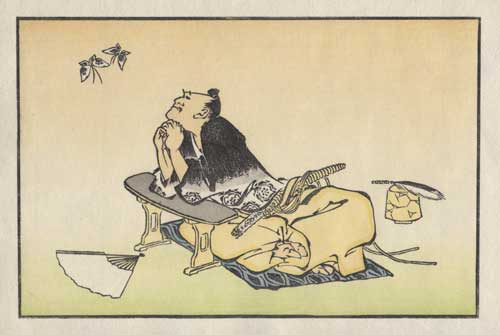 Good enough to go into our catalogue ... so that's where a batch of them can now be found!
That was a fairly delicate print, with gentle gradations from top and bottom. She wanted to try her hand at something with a bit more 'impact', so we gave her the blocks for another of the prints in that same series - a kacho-e (nature print) by Koryusai. And again, she came through wonderfully, getting a good deep saturation on the flower, and a good balance of the surrounding tones: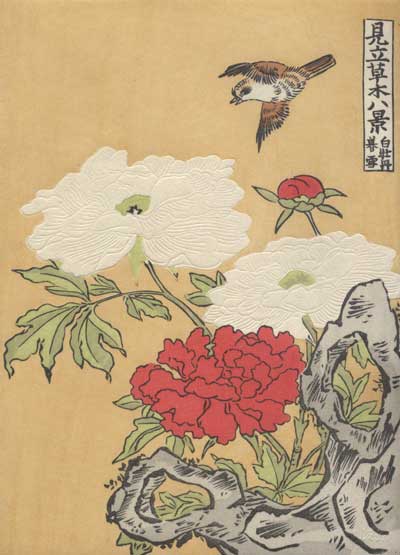 So this one too will be taking its place in the catalogue.
As always, we price these 'debut' prints at a discount from what the price will settle at later, as an encouragement to these young printers to see their work flying away ... I hope some of you will be interested!
Added by: Ken Morgan on September 19, 2012 12:39 AM
Keep giving Ayumi-san new blocks to try. She is producing major works of Art.
Had to buy 2 (1 to share with a friend- he loves his Bonsai Tree) and one for my collection.
Hope this can continue to grow. With all your new projects, it looks like you have many years of work to complete all the avenues you now travel.


Added by: Odawara on September 20, 2012 10:30 PM
Thank you, David-san and Ayumi-san,
The "Peony and Sparrow" prints arrived today.
So beautiful, with Karazuri [my favorite!]