« One small step for a man ... | Front Page | Next door ... »
Posted by Dave Bull at 2:12 AM, May 5, 2012 [Permalink]
This post is long overdue! People have been asking about the 'new face' they have now and then seen on the webcam ...
Meet our most recent 'Trainee' ... Ms. Teiko Patricia Fujii: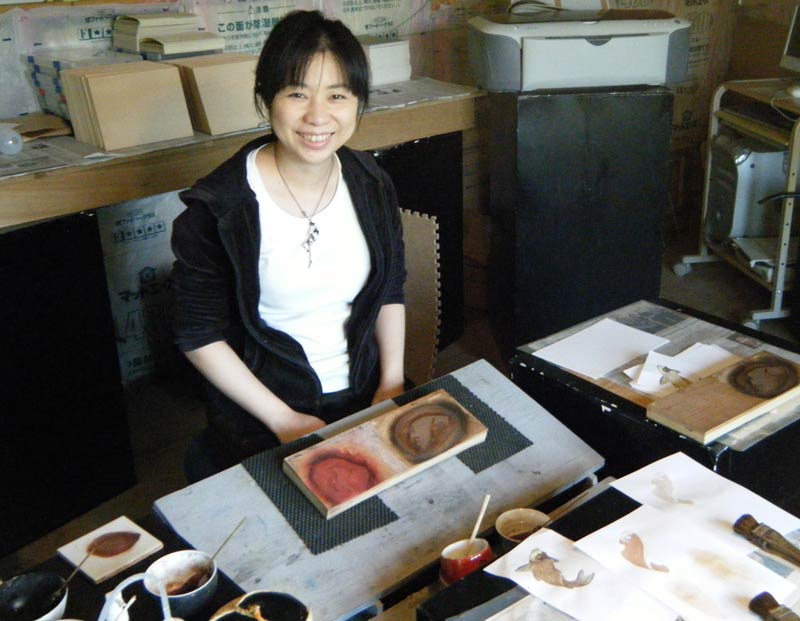 Fujii-san came to us by a very roundabout route - American printmaker Lynita Shimizu had heard that we were looking for trainees here, and she contacted an old family friend (from her own days in Japan, some years back), who had a daughter recently graduated from a major Art University here.
One thing led to another, and here she is, busy at work on some of our standard 'training' items: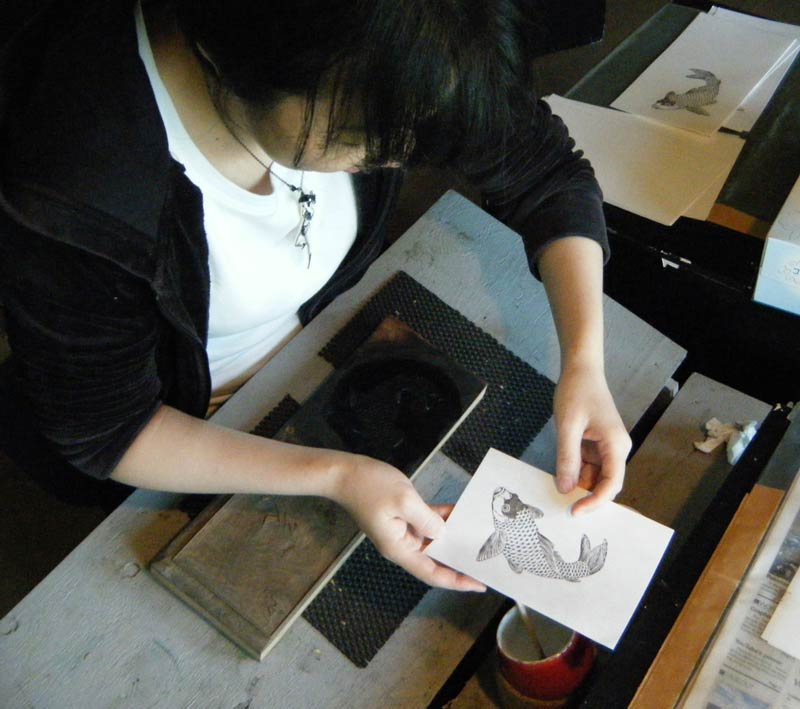 Unlike the other ladies who are here training, Fujii-san isn't actually here primarily to 'work'. She is attending some kind of vocational course on digital/web design/etc., and I guess may be looking for work in that sector later, I'm not really sure.
But while doing that, she wants to learn what she can about this printing thing, and her commitment has been evident right from the start. She lives a very long way from here, so far that when people hear where she lives, they say, "Eh? And she comes all the way here, just to practice for a few hours, and then go home???" But she doesn't seem to mind. (Or maybe she simply sleeps on the train all the way, who knows!)
Knowing that she isn't perhaps going to be able to become a very productive member of the staff soon - because of her school commitments - she has gone out of her way not to 'bother' me while she is here. Today for example, I worked upstairs in the woodshop, only coming down to the print room once every couple of hours to check up on how she was doing. She simply worked away steadily on her own, figuring things out as well as she could by herself.
What did she make today?
Here they are, spread out to dry: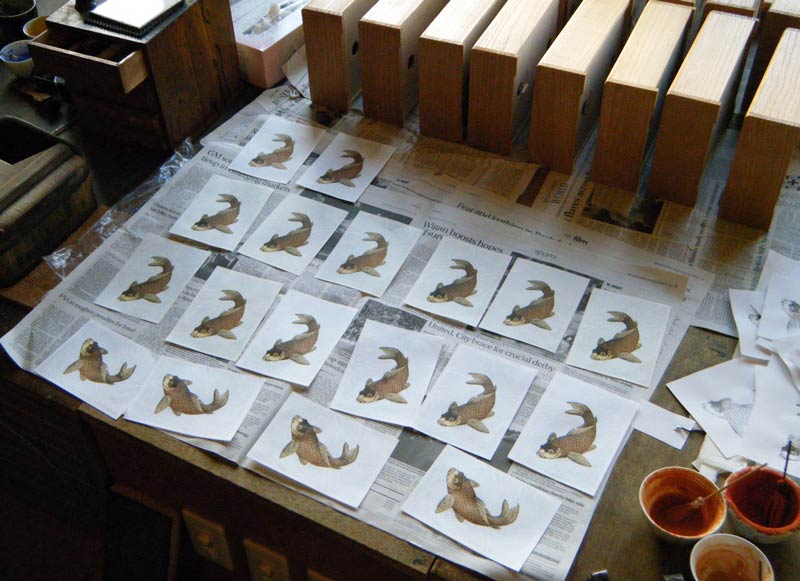 And let's have a closer look (click for an enlargement):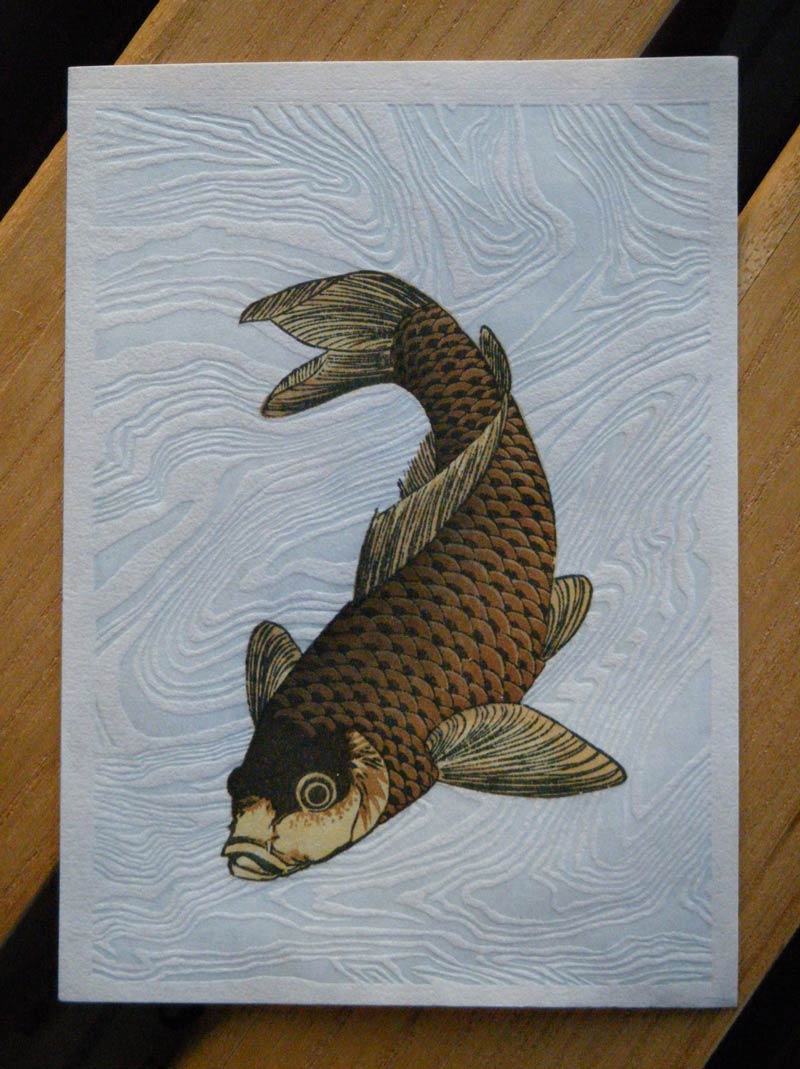 What do you think? Has she 'got it', or not?
Added by: Diane on May 5, 2012 11:00 PM
So nice to see her without the mask. Her work is flawless. I hope, for everyone's sake, she decides printmaking is a true vocation. We need more like her.
Dave, thank you for blogging the way you do. It's so wonderful to hear of your successes, experiments, creations, and to meet the people you work with.

Added by: Dave on May 5, 2012 11:09 PM
nice to see her without the mask ...
Hah! That was her idea, not mine! She took it off as I got ready to shoot the photo, and when I asked her why, she said that she felt it was more polite that way ... (And I think her American friends - she is quite 'international' - had previously asked her about 'why Japanese people wear strange masks all the time ...')

Added by: Gayle on May 5, 2012 11:23 PM
Beautiful work. I hope she returns to it someday as it looks like she has the skill necessary for this kind of printing. Thank you for introducing her to us, Dave.

Added by: Barbara Mason on May 6, 2012 3:59 AM
Very very nice...it looks embossed..is it? I don't remember the one I have as being so...too bad she has another path as she is a darn good printer. Maybe she will come back to it,

Added by: Tom Kristensen on May 6, 2012 6:05 AM
I have no argument with this print, it might be a little heavier than the standard, perhaps there have been a couple of extra impressions, but it looks fantastic. The training must be very good.

Added by: Dave on May 6, 2012 8:30 AM
The training must be very good.
The 'training' is minimal. All told, over the dozen or so sessions that Fujii-san has now had here, I have probably spent maybe a half-hour in total in 'explanations'. I don't 'explain', and I don't 'helicopter'. What I do do, is provide the 'perfect' base on which they can work: blocks, pigments, paste, properly moistened paper, properly tied baren, etc. and etc. I sit at the bench and do one or two sheets. We then switch places and they do one or two sheets. After they seem to 'get it', I wander back to my own work and leave them to it.
I don't even think about trying to teach them the myriad details that are necessary (moisture level in the paper, how much water in the pigment, etc. and etc.). I provide that for them, leaving them nothing to do but run.
I'm speaking of their first day of course. Then, bit by bit, as they get a grasp of what is going on - what properly moistened paper feels like - they try doing some of the other steps by themselves.
Step by step.
The paper Fujii-san used yesterday had been moistened by me the evening before. By now, she has started to develop a sense of what level of moisture feels right, and she'll prepare her next batch by herself.
She will be coming over today again (it's Sunday, and she's off school), and we'll start with a short review of the stuff she produced yesterday. I'll then leave her completely alone. I'm certain that today's prints will be an improvement over yesterday's ... and they will definitely be more consistent.

Added by: Teiko P Fujii on May 7, 2012 12:38 AM
Hello everyone!!
My English is not perfect, so excuse me that first.
Hi- Diane
Masks - Since I am not a spiderman or a criminal, I thought it would be better to take off mask to show my true face.
Hi- Gayle
Thank you for encouraging me. I will work hard.
Hi- Barbara
David's wood block carving always amaze me. Since it is so fine made, it naturally makes the emboss.
Printing and art is part of my life, hope to continue as long as I can.
Hi- Tom
I'm sorry I quite don't understand the word "heavy"... probably you are pointing about the color(?)
Thank you for your nice comment anyway.
Thank you all for warm comment.
I learn a lot of good things from David-sensei all the time. He looks Canadian, but inside is truly more than Japanese.
I hope my skill gets better as soon as possible.
Teiko P Fujii