« Senshafuda Project - just a couple of days now! | Front Page | Senshafuda Project - final package design »
Senshafuda Project - first proofing!
Posted by Dave Bull at 9:31 AM, April 18, 2011 [Permalink]
Continued from the previous post in the thread | Starting point of the entire thread is here
The proofing got underway at Tetsui-san's place yesterday, Sato-san bringing the 'finished' block set with him. As I wrote the other day, I held back a bit, showing up in time for lunch. They certainly weren't finished when I got there - there are just too many colours and combinations in this print to wrap it all up in a couple of hours - but they had made a good start to the job, and we took the sheets with us to a nearby restaurant to chat about the morning's work while we ate.
Things had apparently proceeded without incident, and our designer Seki-san, and carver Sato-san had pretty much simply followed along with what Tetsui-san was doing - priming each block to take some trial impressions, getting a set of colours mixed that seemed like a reasonable palette, and generally getting the process under way.
We had a good lunch, and then headed back to work; Sato-san and I mostly just kept out of the way while our designer and printer sat side by side and worked through the block set, getting some complete samples done. (images clickable)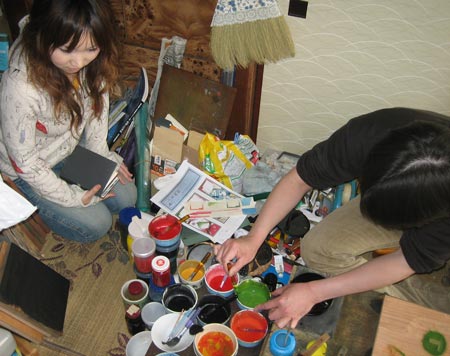 It was interesting to watch the interaction between the two of them. Because neither has much experience at this, and because they are both easy-going and polite, it was sometimes a bit difficult for them to 'decide' something - they were both too willing to defer to the other!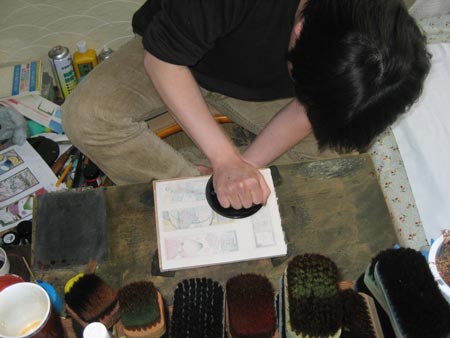 It took a couple more hours, but we ended up with our first few proof copies. You may be a tad disappointed in this, but I would like to hold back from showing it to you just yet. This is not because I want to promote 'secrecy', but out of respect for our work crew. The print is not 'ready'. The colour balances are still a bit clumsy, and the printing impressions are rather 'poor' - this is unavoidable in many proofs, because one can't take the time normally required for each impression to properly absorb into the paper and stabilize before putting the next one on top of it. Tetsui-san doesn't feel that it looks very good, and out of respect for that, we'll hold off showing this until we have something better for you.
[proof image will come here later]
And it's not only for Tetsui-san's feelings ... because our young carver had some problems too! Maybe I talked about this before ... I can't remember ... but when a carver sits down to cut the colour blocks, it is very important that he checks and checks and double checks what he is about to do. A colour block is not a 'picture' - it is just a scattering of seemingly random shapes on a piece of wood. One bit will later represent a bird's leg, another bit will be a piece of background sky, and etc. etc. When doing the layout of the colour transfer sheets, it is extremely easy to miss a spot. When we were leaving the meeting last week - after making the decisions on colours - I specifically spoke to Sato-san about the potential problems here, and I asked him to do like the carpenters do ... Their rule is 'Measure twice - cut once'. I told him that our rule is 'Check three times, cut once'.
Of course check what you are doing at the time of deciding colour separations and drawing the sheets. Next, at the point where you are about to paste each sheet onto the wood, go over every detail once more, and see if you have missed spots or mis-understood anything. Then, at the point where your knife is about to plunge into the wood on any particular block, stop and check it all yet again!
And if this sounds like overkill, I have to say that it isn't. I've been doing this for nearly three decades, and there are still instances in my current Mystique series where I have botched this, and had to go back and repair a block (or quickly change plans and alter another block to 'cover up' the error).
Well, you can see what I'm leading up to. He had indeed made some mistakes. A couple of them are very small, and he will be able to patch them by chopping a hole in the block, inserting a small piece of wood, and then cutting the missed shape. Part of a bird leg, and part of the iPhone will be fixed this way. Another error though, is just too wide an area to comfortably fix this way, and it will be quicker just to toss that block aside and cut a fresh one.
Now, Sato-san sometimes reads this blog, so I hope he (Hi, Sato-san!) understands that I am neither angry, nor upset, nor even disappointed at seeing these errors. As I mentioned a moment ago, I am still not immune to them. It's part of the job, and bit by bit, you get better at it, hopefully minimizing them as you get more experienced.
But ... there's more. As he reads this, he is no doubt saying to himself, 'I wonder if Dave is going to tell them about the 'missing' red area ...?'
OK, fair's fair. My turn.
As we sat looking at the partial proofs at lunch, somebody happened to notice that part of the background of one of the designs was orangey, where it should have been reddish, and asked about it. I told them not to worry, that this would be covered by one of the blocks that had not yet been printed. Umm ... no. As we discussed it, it turned out that there was no other block for that zone. What we were seeing was what we were going to get. It seems that back when we had done the colour separation, I had made a decision at one point that the required reddish tone could be created by the overlay of yellow and pink, but here in real life, it was clear that it wasn't going to work that way - the colour was faint and pallid. And there was nothing else we could overlay to help. We were going to need a new block - extra work for Sato-san, as well as for Tetsui-san (an extra impression).
And this was clearly Dave's fault.
I guess perhaps we're even. I'm not going to be like one of those classroom teachers who says - when found to be in error - "Oh, I was just testing to see if you would notice!" Yeah, right!
So that's where we stand just now. Sato-san has headed back home to make these corrections and re-cuts. Tetsui-san will simply wait (do other work, actually) until he gets the call, and it'll then be time for some more proofing. I think that in order to get it moved forward quickly, he and I will probably do that together. It should be happening a couple of days from now.
Tetsui-san's mother took a few snapshots while were were taking over her kitchen table (the poor lady loses most of her living space during these events, but seems basically happy that her son is involved with this sort of productive activity.)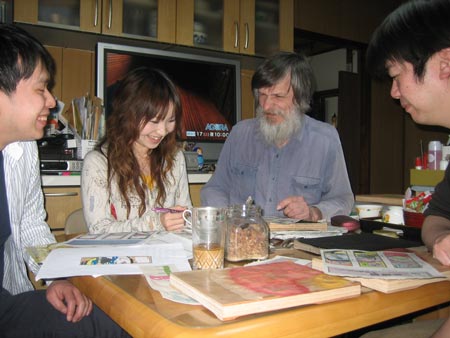 More soon!

This thread continues here ...
Added by: Julio on April 19, 2011 2:49 PM
Hi Dave, nice work, looks like lots of fun with the team...a couple of questions...on the second photo it looks like he is using a plastic baren much like the pla-baren from the mall...and wow look at the size of those brushes ! the third brush from the left looks very sparse on hairs compared to the others....is it a real printing brush or a shoe shine brush ????
thanks for the updates !

Added by: Dave on April 19, 2011 3:30 PM
It's not a plastic baren, it's the ball-bearing model known as the 'Korokoro Baren' (they're in the Mall, too). I'm not so happy to see him using it there (he was doing a very small impression), as it smashes the block too much, and we're going to have to have a little 'chat', I think.
As for the brushes, yes, we always use as large a brush as possible for any particular job. Having a good pigment 'reservoir' is an essential part of keeping the colour consistent from sheet to sheet.
And nearly all modern brushes are way too dense. This causes streaks all over the place, and doesn't really help with getting good colour saturation. The 'best' brushes are those that have the hair clumps spaced far enough apart so that you can see down between them ... (personal taste, of course), although you can't buy stuff like that any more; all the brush makers are no longer making just for us, but for 'multi-purpose' use (shoes, etc.), and we are very far down on their priority list ...