« Hilo Bay (13) - Done! | Front Page | Hilo Bay (14) - Embossments »
Aspen Grove (7) - Numabe's Proofing
Posted by Dave Bull at 4:36 PM, July 9, 2006
Continued from Aspen Grove (6) | Starting point of the thread is here
Hard to believe it's been four months now since Mike and I first tossed around the idea for doing this print; I had expected it to be 'done' in a couple of weeks!
Yesterday I went down to Numabe's workroom with two things in mind - to pick up the completed Hilo Bay prints, and to work with him on Aspen Grove proofing for the day. In baseball terms, I did fine ... :-(
The Hilo Bay prints were fine, and there wasn't much for us to spend time on with them, so we got right to the proofing. Numabe had spent the previous day on it, getting familiar with the blocks, going over the proofs and colour separations that I gave him, and trying a few samples.
By the time I got there, he had one nearly done; here it is on his proofing stand together with Mike's original (Mike on top): (note: all the photos taken during this session are a bit schmucked up - I found out when I got home that the camera had retained an ISO setting that I had used the night before when trying to take pictures of fireflies!)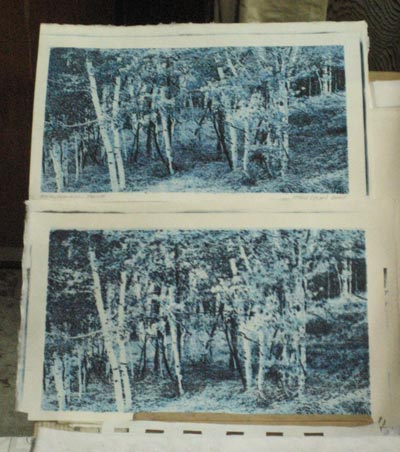 As you can see, Numabe has pretty much retained the 'look and feel' of Mike's work in his own proof. At first glance, it looks like we are on our way!
But ... here's a zoom in: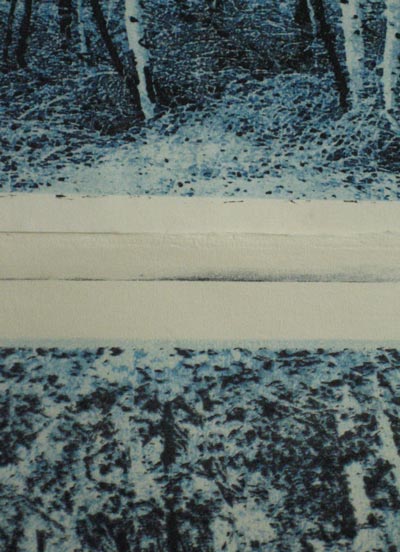 Mike's is clean and sharp; Numabe's is completely 'fuzzy'. And, you can see a wide strip of blue tone at the top of his, where one of the blocks is sticking up beyond the others.
The fuzzyness is coming from misregistration. Now these blocks - right down to the registration marks - are cut by machine directly from the image files, so there are no lines 'out of place' at all.
But he found - no matter how he tried to move the registration marks up or down - that he just couldn't get all parts of the image to line up properly. Here's a closeup: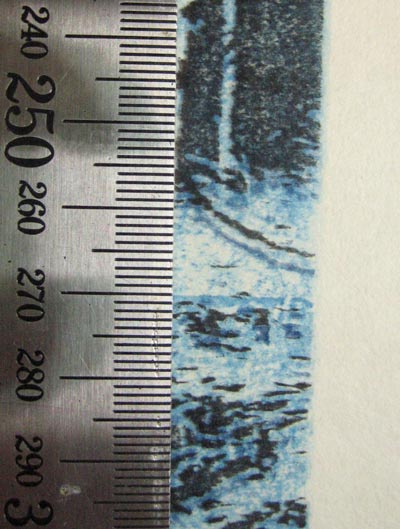 You can see the parts that should be lining up ... they are off by a couple of millimiters easily. Now usually, that's no problem - you trim or adjust the registration mark to move the paper into the proper alignment.
Unfortunately, this isn't a misalignment of the registration mark, but a distortion across the entire face of the block ... of all the blocks! And something else in that picture shows us what it is; look at the image right at the '270' line - there is a straight line across the print, blue on the bottom, white on the top.
This is one of the joints; one of the places where the laminations meet. Just how bad is it? Here's a rubbing from one of the blocks: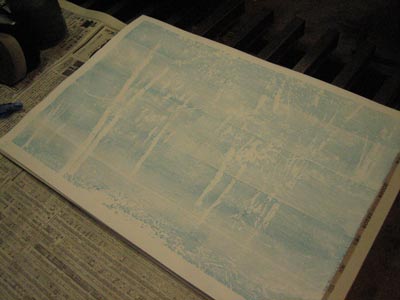 The laminated strips have distorted in two ways - in thickness, and in width. Each one now sticks up, or sinks below, the level of its neighbour, and there is no way that a proper impression can be taken from them.
And as for width, they have expanded in what seems to be pretty much a random fashion, some more than others. And because half of the blocks (1, 3, 5, 7) are in one orientation, and the other four in the opposite orientation, there is no hope whatsoever of getting things lined up.
Numabe looked at me, and asked whether he should go ahead and try it ... but look back again at that proof of his - the horizontal bands are clearly visible across the face of the image. This one's a goner ...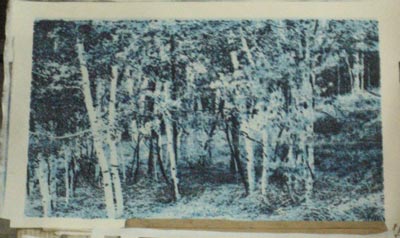 So, there really isn't any choice on this; the wood available to Mike over there is just not suitable for this kind of work. Monday morning I'll call up Matsumura-san, order a set of blank cherry blocks, and then send them across to Mike, where he'll have to 'reload' the image files and fire up his cutter again.
It'll take a bit of time, but I think that's all - the image has pretty much been 'solved', both at Mike's end, and here on the proofing desk. When the good blocks arrive, we can pick up where we've left off, run up a few variant proofs, decide which one (or ones) to use, and run the edition. Numabe-san is interested in doing this one, as it's completely different from anything else he's done before.
Apologies to the collectors who are waiting for this print; I'll post a timetable here shortly, after talking to Matsumura-san and Mike and finding out what their schedules look like.

This thread continues in Aspen Grove (8) ...
Added by: Mike Lyon on July 11, 2006 2:52 AM
Well, I would'a lost a LOT of money betting on this one, Dave! I've NEVER had this problem before! OK, please go ahead and return the original blocks with the new ones and I'll recarve at my earliest opportunity -- probably be early September, I'm sorry to say, as I'm travelling virtually all of August (my wife's family reunion, then I teach printmaking in Colorado, then the 50th anniversary of my karate group in California, then teach again in New Jersey, then my exhibition opens Sept 1 at Sherry Leedy Contemporary Art, and THEN I'll have some time available... Totally tied up between now and Sept 1, though... Sorry!
Before you buy blocks and go to that expense and the freight expense -- have you measured the BLOCKS ??? From kento to some prominent feature? Do you see the same out of register (a long shot here, but might be worth the exercise just to be sure it's not a paper problem)?
Anyway, let me know and I'll watch for the new blocks to arrive.
Best,
Mike

Added by: Dave on July 11, 2006 8:56 AM
Before you buy blocks and go to that expense and the freight expense -- have you measured the BLOCKS ???
Yep ... first thing we did once the nature of the trouble became apparent. Bottom to top of the carved area differs by up to just shy of 3 millimeters on some of them. This is more than I've ever seen on a block, although Numabe said he's seen lots worse than that before (on very old blocks).
I also measured the width of a bunch of the laminated strips, and found that these varied widely from one to the other. I don't have the notes here in front of me, but I got numbers like 52.7, 51.2, 50.9 etc etc as I tried in different places. (Although to be fair, I don't know if the factory cuts those strips all exactly the same width to start with ...)
We also thought about trying to solve it by dunking the blocks under water, and letting them drink as much as they wanted - thus (presumably) all expanding to about the same width. Problem is, although that might solve the overall registration problem, it would inevitably exaggerate the problem with the visible horizontal striations ...
probably be early September, I'm sorry to say
Well, at least the bright lining in that cloud is that it means I can ship the very heavy package to you by sea, instead of by air.
I'll get some blocks ordered and send them over. In the meantime, I'll write to all the people who have ordered (and paid for!) this print, and give them the option to either hang on and give us a chance, or to pull out and get a refund.

Added by: Dave on July 11, 2006 9:16 AM
OK, I'll put this into a separate 'comment', to help keep the topics separate.
(to Mike)
Over and above the registration and 'blue stripe' problems, Numabe-san and I were of course more interested in getting the image itself worked out. He pointed out something to me that I honestly hadn't noticed - that in the process of doing the breakdown of the colours, the places where you set the division from one to the next are in a couple of places quite strange.
I can't show an image right now, as all the sheets are over at Numabe's place, but it turns out that blocks 5 and 6 are essentially identical, differing only in the very smallest of dots here and there around the image. I had been looking at some of the test sheets he had numbered and called him out for an error: "You've got two different numbers on prints from the same block - look, these two are identical". It turns out that it wasn't an error ... those two blocks are so similar that two printing 'experts' had trouble telling them apart.
Also, 3 and 4 are very close, maybe 85% the same.
The 'gaps' between the other steps seem to make sense, but as things stand now, the image would not be different in any perceptible way by omitting 5 and 3.
In addition to this, at the very top end of the image, although 7 and 8 are different in many places, the tone by then has become so deep that there is actually no point to the addition of 8.
The point of these comments is that it seems that rather than an 8-step image (9 counting the blank base), we actually have a 5-step image, and it's only because of the extreme visual complexity and overlaying that we haven't been able to perceive that.
Does this make a difference? Well, in an earlier part of this discussion you wrote:
It's always so disappointing to see the huge loss from hundreds of colors to only (in this instance) 8!
So if we're really only working with five, not eight it could be that the image has plenty of room for improvement!
Anyway ... I'll perhaps be seeing Numbabe again in a couple of days (are you listening Gary?!), so I'll pick up some of the block proofs to try and show you the situation visually.

Added by: Gary on July 11, 2006 9:40 PM
Quite by chance, yes!