« Hilo Bay [3] - Questions ... | Front Page | Jakuchu Parakeet »
Posted by Dave Bull at 6:47 PM, March 13, 2006 [Permalink]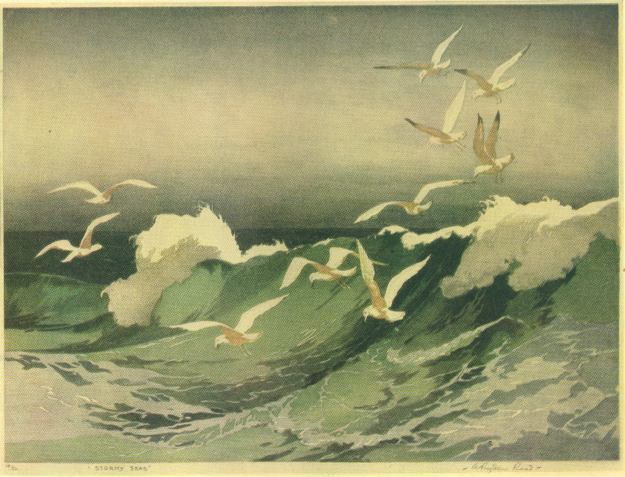 I'll put this into the 'Up and Coming' section even though I can't pretend that it is anywhere near 'the front burner'; quite the opposite ...
I've been looking at this one for years! All that I know about it can be fitted into one sentence: designed by Englishman A. Rigden Read in the early part of the 20th century; presumably self-cut and self-printed ... (click it for a popup)
Without more information, I can't go ahead with producing a reproduction of this image, as I can only do that if Mr. Read has been dead for 70 years or more. But if I can confirm that, then I very much want to have a go at this one ... I think he did a masterful job of depicting the sea, and would love to learn how he did it. And there is only one way to do that ... build it from the bottom up!

Added by: Gary on March 13, 2006 9:43 PM
Just a suggestion, if you haven't already tried it, is to contact Faith Chapman in London. If she knows nothing of him, perhaps she could suggest lines of inquiry.

Added by: Dave on March 13, 2006 9:48 PM
I think you mean Hilary Chapman? But yes, contacting some people in England is exactly what I'll do - once this bubbles up a bit closer to the top of the pile.
Actually, I think the people at the V&A print room will almost certainly be able to come up with the answer for me!

Added by: Marc Kahn on March 14, 2006 12:44 AM
Dave,
Have a look at ebay item #7224930826, a reproduction print by A. Rigden Read, apparently made in 1929. The auction listing says that the prints are "held by Oxley & Son, Windsor, England, Printers to the King". A potential source of information...
Apparently, at the time, permission was granted by the artist. So, he was alive enough to grant permission in 1929.
It's a bit confusing that they are thanking Arthur Greatorex Ltd for the "loan". Loan of what? The original print by Read?
Anyway, some interesting leads contained in that auction listing.
Marc

Added by: Dave on March 14, 2006 2:25 PM
Interesting item ... I've never come across that design of his before. Is this a page taken from a book, do you think? I guess it's four-colour offset ...
The Stormy Seas image I have is copied from the book "The New Woodcut" published in 1930. It contains no further information about Read ...

Added by: Jo on December 7, 2006 1:35 PM
Just a short mention of Arthur Rigden READ
(in the Dictionary of British Artists 1880-1940, Antique Collectors' Club 1976)Born 1879. Colour woodcut artist.Exh.1923-40. Address: The Dower House, Winchelsea, Sussex.Followed by a list of six venues where he exhibited. I once owned a fairly boring oil painting of his of Sussex Oast houses. It wasn't dated. I adore your woodcut of Stormy seas, the first print I have seen by him. He was obviously a very good woodcut artist. The Dower House still exists but not under that name. It is in North Street in Winchelsea, between "The Forge" and "Cobblers". It is a charming white weather-boarded house. Papers relating to Winchelsea are kept at the Lewes (East Sussex, UK) record office. Perhaps they might have his date of death or at least the last date at which he was listed at that address in the census records. Good luck.

Added by: LAURENCE COLEMAN on February 25, 2007 5:03 PM
Hi, I have been checking a little into A Rigden-Read and I think you maybe interested to know that he used to live next door to my grandparents in Winchelsea/Rye area around about the 1920s/30s. I know that he travelled around the world, notably Japan.
You'll also be pleased to know that I have at least another 6 smaller prints by him, one that my dad has is approx 18" x 10" of 'dancing ladies'.
If you're interested, I can take some pictures and e-mail them, let me know
regards
Laurence

Added by: Laurence Coleman on February 25, 2007 7:15 PM
Just to add to the above:- Rigden Read did in fact live in Winchelsea and definately lived next to my Grandparents. Their houses were bombed during the war and from then on in went their separate ways (except for the odd Christmas card i suppose). My Grandad, a carpenter by trade, made Rigden Read's frames for many of his prints and was given a number of prints for his troubles, notably the one i mention above for their wedding day. Rigden Read also received a Gold medal while in Japan for his donations or help during a large scale tragedy in Japan, I'm not quite sure what it was in aid of. Unfortunately it was never recovered after the bombing in wartime Britain.
Hope this was of interest,
regards Laurence

Added by: Dave on March 1, 2007 7:38 AM
You'll also be pleased to know that I have at least another 6 smaller prints by him
I would indeed love to see more of Mr. Rigden-Read's work ... Perhaps also, if it seemed suitable, I could make a webpage somewhere on the site for his work, to try and bring it to wider attention ...
So any and all information would be much appreciated ...


Added by: Julio Rodriguez on March 2, 2007 4:07 PM
Yes, I second this....a web page for these prints would be most welcome...

Added by: Fr.Philip Lamb on May 28, 2007 7:47 PM
Some years ago I was given a charming print signed "A.Rigden Read" and dated 1923. It depicts a bearded old man with a sack over his shoulder and leadinga donkey. The picture hung for many years in the bathroom of Wotton Manor in Gloucestershire and was said to have been given to the squire's mother by the artist as a thank-offering for the manor's hospitality.
I am recovering from a bit of surgery at this time so I have time on my hands to try and find out about this obviously important artist. I could try and email you a scanned copy of the print if you like and I would be grateful for leads in learning about A.Rigden Read.
Regards,
Fr.Philip

Added by: Dave on May 29, 2007 8:20 PM
If you're interested, I can take some pictures and e-mail them
Those images are now in a temporary home here.
Very interesting stuff! Demonstrates how we certainly need to find more information about this guy!

Added by: Helen Gunning-Stevenson on August 15, 2007 6:01 PM
I also have a copy of the Christmas Goose which would have been given by the artist to my grandfather (Bertram Buchanan) who lived in a village called Iden, near Rye and was himself an artist (primarily etchings).

Added by: P.VENKATESH on September 7, 2007 7:14 PM
good


Added by: Charles Clarke on September 9, 2007 6:37 AM
I have Hans Frank's colour etching Seagulls(1924) and I think this image may owe quite alot to Frank. (His prints were for sale in the provinces here in the UK in the 1920's). The seagulls are very similar indeed but I think Read was more used to the waters of the English Channel - Frank's sea is rather abstract.
I was also fortunate enough to buy a fine Rigden Read called The Venetian Shawl on London's Portobello Road about 25 years ago. This was a happy hunting ground for British colour woodcuts at the time because both Manou Sharma Levy and Steven Hutchins sold them occasionally. Around the same time I came across an elaborate image of a woman in a mantilla by Read, which I didn't buy. In retrospect this was a mistake as his prints are uncommon. The only two I have seen for sale since then were very expensive for the time. (See below)
A friend did a great deal of research into British colour woodcut prior to the exhibition that Robin Garton and Gordon Cooke held in 1986. There were two Reads included - Geese and Gander and Morning on the Mountains, Pyrenees, which made interesting use of the grain. Both are illustrated in the catalogue.

Added by: Dave on September 9, 2007 10:48 PM
Thank you to those who are posting about additional 'sightings' of Read prints, and I would like to encourage anybody with any information to add it to this page. At some point when I get a bit of time, I'll organize it all - along with the images collected so far - into a coherent section of the website on Mr. Read ...

Added by: A Mickleburgh on October 6, 2007 12:09 AM
Hello,
I believe I am the great great granddaughter of A Rigden Read.
My Grandfather (Edward S Clayton) was actually adopted, but his natural father was Percy Rigden Read , whose father was Arthur.
I am very keen to find out more about Arthur and Percy so would be most grateful for any information and pictures of his work. I noticed two pieces were auctioned in 2006 ("Little Fishes" and "May Morning")

Added by: A Mickleburgh on October 6, 2007 12:32 AM
a little more information for you:
Arthur Rigden Read was born in Margate in 1855 and died on 15th May 1918 in Brentford.
His son Percy James Read was born on 28th April 1883

Added by: Dave on October 6, 2007 12:38 AM
died on 15th May 1918 ...
1918! But this totally contradicts a great deal of the other information received above:
I have been checking a little into A Rigden-Read and I think you maybe interested to know that he used to live next door to my grandparents in Winchelsea/Rye area around about the 1920s/30s.
Their houses were bombed during the war
a charming print signed "A.Rigden Read" and dated 1923
Are we talking about the same person?


Added by: A Mickleburgh on October 6, 2007 3:37 AM
Well, I can keep looking into this and I am only quoting off of papers in my grandfathers documents that he collated whilst searching out his natural parentage. I will check back and update if required

Added by: Felicity Naylor on October 15, 2007 11:34 PM
Hi I have woodcuts By Arthur Rigden Read
Little Fishes, Nasturtiums and May Morning
Felicity Naylor, Cornwall UK

Added by: Amanda on November 2, 2007 10:29 PM
Hi Felicity,
Would you consider selling any of your collection?
thanks
Amanda

Added by: Felicity Naylor on November 15, 2007 10:12 PM
Hi Amanda I was intending to put Nasturtiums on ebay uk today 15 November if you are interested please contact me asap ..I am not sure how to contact you Dont really want to post details too many on here.

Added by: Dave on November 18, 2007 11:34 PM
The British Museum has been working on getting information on their collections online, and it seems they are in possession of 10 Rigden-Read prints:



Spider's web; Web across a flowering rose. c.1930
Roses; Bowl of cut roses. 1925
The bridge; View of bridge with buildings on at night. 1923
Lanterns and azalea; Three lanterns suspended over flowering shrub. 1925
The white cat; Cat lying to l, looking to front. 1922
Night piece to Julia; Semi-nude woman kneeling with patterned wrap, starry sky beyond. 1925
Stormy seas; Seagulls flying over breaking waves. c.1930
Turkeys; Two turkeys, one with tail feathers fanned out. 1924
Morning on the mountains, Pyre...; Rocky mountains with building on peak. c.1930
Wind and rain; Bare trees blowing on windswept hillside. c.1922-25
There do not seem to be any images online there yet, but here is a link to their catalogue list of his work.

Added by: Dave on November 30, 2007 12:19 AM
Ms. Naylor (mentioned above) has sent a couple more images:
http://woodblock.com/rigden-read/images/may_morning.jpg
http://woodblock.com/rigden-read/images/nasturtiums.jpg


Added by: Suzzanne on December 10, 2007 9:53 PM
I have a rigden-read wood cut called "gannet and drake" signed A Rigden-Read dated 1925 7/100. I was curious as to it's value??

Added by: Helen on February 10, 2008 9:09 PM
I have a signed woodcut exactly the same as the Christmas Goose however mine is entitled Michaelmas Goose and numbered 37/75 .....

Added by: Jill on April 5, 2008 11:46 PM
I have a considerable number of signed Rigden Read woodcut prints, certainly all of those listed above.
Also oils and original watercolours. I came across your e-mail by accident. Who should I contact in the UK to 'maybe' sell to?

Added by: Hilary Chapman on May 8, 2008 3:37 AM
In reply to Jill (April 5 2008) I would be interested in the Rigden Read woodcuts she has to sell.
Hilary Chapman (Fine Prints), London UK
(You know me well Dave - we have had contact over the John Edgar Platt colour woodcuts. Perhaps you would like to recommend me to this person))

Added by: amanda on June 12, 2008 7:53 AM
Hi Felicity and all,
Its been a while since I checked this page and its great to see more information about A Rigden Read. Sadly my grandfather had a stroke towards the latter part of last year so I am struggling to clarify the dates that appear on his documents. Certainly places of birth and death match up. I have reached a point where I am grateful of any historical information or genealogy info as well as continuing to find details and any sales of his work.
Thanks to all that have contributed so far

Added by: Alice on August 8, 2008 1:11 AM
I have read the correspondence with interest and have a contribution to make regarding the date of death debate. I have in my possession a print entitled "Spiders Web" (without the apostrophe), numbered 3/50 and inscribed "To Lily - from ARigden Read - 1937". I don't think anyone has mentioned a date as late as this yet ...

Added by: JKW on August 27, 2009 6:29 AM
Arthur Ridgen Read the artist was born in 1879 in Bermondsey, Surrey and died in 1955. He was one of 5 boys. Not to be confused with his father Arthur Rigden Read who was born in 1855 in Margate, Kent. He was a Postmaster, his wife was Elizabeth. Arthur (jnr) was christened Arthur Robert but seems to have used the name Rigden. He was my husband's great uncle and my mother in law used to speak proudly of him. The whole family were very artistic. My grandfather in law was also a very gifted artist.
According to mother in law, Arthur and his wife adopted his brother Percy's son and in my family records I have him recorded as being named Clifford.

Added by: Dave on August 27, 2009 7:58 AM
born in 1879 in Bermondsey, Surrey and died in 1955
Good news - finally some real dates! Thank you for this!
But my pleasure at hearing this is tempered by the knowledge that the 1955 date means his work won't come into the public domain until the end of 2025, thus effectively shutting it out for possible inclusion in this Mokuhankan catalogue.
'Death + 70' is far too long a term for sensible copyright protection (I believe). As things stand at present, I could make a reproduction of this design, but would only be able to market it in the US and in those countries where a 'Death + 50' rule is in force (Japan, for example).
The only other alternative would be if I could receive permission for such a reproduction from the person who 'owns' his copyright. But with no way to determine such a thing - which family member would it be? - a work like this print just sits 'in limbo' until 2025. And by then I'll be nearly 75! Will I still be making prints? Who knows ...

Added by: JKW on August 27, 2009 8:02 PM
Percy was Arthur's brother and still alive in 1971, aged 87. I have a letter from him to his sister in law at this time discussing his childhood and details about his brothers. I also have a letter from Arthur to his brother discussing decorating and painting the outside of the studio at Winchelsea. It had cost £14 to employ a professional so he thought he would do it himaelf next time!! This was in 1937.

Added by: Rita on November 15, 2009 7:53 AM
Hello All,
I have been unable to find Rigden-Read at the Britsh Mueseum link. Does anyone have an idea on where I might find documentation on his various works?
Thank you.
I recently purchased 1925 "Roses" at an auction.

Added by: Dave on November 15, 2009 8:14 AM
unable to find Rigden-Read at the British Museum link
Seems they have altered their system somehow ... I have now edited the link so that it again works correctly. [Updated link to Rigden-Read at the British Museum]

Added by: John on February 13, 2010 5:53 AM
Hello. I have been rummaging around in my basement and found 2 original woodcut paintings. One is a signed A. Rigden Read entitled "Valencia", 8.5" x 11.5". It is a picture of a beautiful fair skinned Spanish girl. A complete description of the painting still remains on a label on the back of what seems to be the original frame. The other painting is a woodcut from S. G. Boxsius entitled "Autumn" 14" x 10.5". I received them many years ago from my uncle's estate and he originally came to Canada from England. I have been trying to find out more about these paintings as I am going to put them on the market. Can anyone assist me in value, market, etc.?

Added by: Charles Clarke on April 29, 2010 7:31 AM
John, I have just bought an unsigned 'Autumn' in less than perfect condition on British ebay ie glued along the top. Another signed 'Autumn' went for £180 a few weeks ago but again partly glued down. Condition counts for alot with work on paper. Because many prints that Boxsius made were small, the larger ones like 'Autumn' do have alot of appeal.

Added by: Mary Rose Rivett-Carnac on May 8, 2010 12:07 AM
I work in London for The Public Catalogue Foundation (www.thepcf.org.uk). We came across a painting by Arthur Rigden Read entitled September Sunshine (1929) at Hastings Museum and Art Gallery and are keen to find the copyright holder. If you are related to the artist I would be pleased to hear from you. My email address is maryrose.rivett-carnac@thepcf.org.uk
Thank you. Mary Rose

Added by: Paul Ritscher on October 8, 2010 2:59 PM
I have several prints by Arthur Rigden Read, several are unsigned, but from a collection of his work. The one of most interest to this thread is the copy of "On the Road" a portrait print of a grizzled man leading a donkey. On the back of the mounting sheet is written: To Uncle Charles & Aunt [Mey] - From Reg & Luida - 1933. Murphy is an old character at Rye, and I am told this woodcut is an excellent portrait, by one who knows both. The 'donk' of course speaks for himself. 'Murph' himself appears in another cut called 'Rabbits' equally good.
In the possibly only publication of the Colour Print Club Journal, Vol. 1, No. 1,1931, A. Rigden Read is listed as a vice-president of the organization along with, William Giles, Sidney Lee, William Monk, Allen W. Seaby, Y. Urushibara and E. A. Verpilleux. His is also listed as the first member who joined the club. He is represented in the journal with an illustration of his print "Spider's Web", and is also listed as a Member of the Society of Graver-Printers in Colour. This latter society's 1939 exhibit was cancelled because of the war, and does not seem to have survived the conflict.

Added by: Wints on January 14, 2011 9:42 PM
Hi, I recently aquired a woodcut by the artist 'May morning' from auction for the purpose of buying a Hans frank woodcut and will shortly be listing it on ebay.

Added by: Amanda on February 7, 2011 9:29 AM
Dear JKW
I haven't looked at this page for some time but I note your comments about the family ( Arthur Snr and Jnr) with great interest.
I believe Clifford is the brother of my grandfather (Edward Stanley/Ted) Ted was also adopted (by Druscilla Blackwell) I have in my records that Percy was married to Hilda Bemmer and she died shortly after Edward was born. can you confirm that this is the same Percy
thanks in advance

Added by: JKW on February 8, 2011 5:05 AM
Hello Amanda,
I do not have any information about Percy Read's wife. I always assumed (but wish now that I had asked more questions!) that Percy's wife had died young and left him unable to look after a child. I did not know that there were any more children. I can not confirm that this is the same Percy but the name Edward Stanley was the name of Percy's youngest brother,so is quite likely. Do you have any more details or records about your grandfather or his family?
It would be nice to confirm a link.


Added by: Susan Lambert on June 7, 2012 12:10 AM
I have a copy of a booklet "The CRAYFORD Sketch Book -1918- (Price 1/6 nett)". It was in my father's papers. It seems to be full of "cartoon" type works by A Rigden Read and a couple of other artists, but mostly ARR's. It's all about working in Munitions and is very funny. It says on the back that it's published by the Drawing Office Vickers Ltd., Crayford. Can anyone confirm that he did indeed work in Vicker's Drawing Office during World War I? Ihave been googling to try to find out more about him and found this site.

Added by: James Trollope on August 4, 2012 9:19 PM
I have been researching a colour woodcut artist called Eric Slater (1896-1963)whom I am sure was taught woodcut techniques by Arthur Rigden Read while they were both living in Winchelsea in the 1920s. In an essay about Slater by Campbell Dodgson it says he was taught by a neighbour in Winchelsea. In the 1927 Who's Who in Art it says Arthur married Kathleen Menlove.In Arthur's will the main beneficiary was Clifford Henry Read, an engineer from Coventry. I assume this was one of the natural sons of Percy Read. I wonder if anyone knows what happened to Clifford Henry Read and whether he had any children.
There's an exhibition of Slater's woodcuts at the Towner Gallery in Eastbourne until November and also a website www.ericslater.co.uk

Added by: Gordon Clarke on August 28, 2012 8:04 AM
Susan, what you said about Read at Crayford is fascinating but it might have been Read's printing skills that got him the work on the book. He had a background in both printing and design but that doesn't necessarily mean he worked at Vicker's.

Added by: Alan Mccarten on July 16, 2013 6:03 AM
I have a copy of a booklet The Crayford Sketch Book 1918, but it is missing it cover, I will be listing it on ebay tomorrow, iv anyone is intrested.