« Craftsmens' attitude ... | Front Page | Hilo Bay [8] - block set »
First Print ... part three ...
Posted by Dave Bull at 12:55 PM, March 31, 2006
Well ... finally ... after working on this Mokuhankan project for almost exactly two months, and the evening of the originally projected 'target date' for opening it up, the first package of saleable prints arrived today.
Numabe-san has done a good job on this reprinting of the 'Crow on Shrine Gate' design. I still think my sample is a bit better, but to push any more on this would be silly and counterproductive; the differences now are personal taste, not a matter of objective quality.
But as far as 'opening' ... still no go.
Catalogue item #1 - the crow - ready to go
#2 and #3 are not received yet
#4 (Iwano san's paper pieces) is here and ready
#5 (Aspen Grove) is still in the planning/cutting stage in Mike's workshop, but it isn't certain at all that the actual print will be the same one as that first sample image we have been using
#6 is now cut (or will be sometime this weekend), and will then be ready for proofing ...
When I called up Numabe-san to talk about the package, the conversation was again 'interesting'. We arranged details of payment, etc., but then I brought up the topic of Hilo Bay proofing/printing, which we had tentatively 'booked' for early next month. Seems that's not going to be possible; he's now busy through until June sometime.
I'm not really interested in waiting that long, and said so. He responded with a list of a few printers that he thought would be able/interested in doing the job. He had the list prepared, with names and phone numbers, and read it out to me ...
Now there are sometimes differences in nuance between communicating in Japanese and English, but I don't think there is much 'nuance' about the message being communicated here.
Time to get back on the train!
Added by: Jacques on April 1, 2006 8:11 AM
It's good to read that you are satisfied with Numabe-san's output concerning the reprinting of the first Mokuhankan design, but a bummer to hear that he has apparently decided to discontinue his cooperation with you. And again -I can't resist mentioning this- without being straight (or what I'd call honest) to you about it.
So, your next ride on the train will be to one of the printers on the list he passed to you on the phone?
Here is a crazy thought (it might have crossed your mind too, I don't know): how about _you_ doing the printing of Gary's Hilo Bay design?
I'm well aware of the Scroll and New Years prints projects that you've got lined up for this year. All I can say is that -as a subscriber to your Scroll project- I'd be perfectly happy with a delay in your delivery dates if that would help getting Gary's print out in a satisfying manner as well.
What are your thoughts about this issue Dave?
By the way, I promise I'll never mention the word 'despondent' in these conversations again!

Added by: Gary on April 1, 2006 10:21 AM
Dave, I didn't even put Jacques up to this! :)
I, of course, would prefer you doing it, but I also understand the tremendous pressure you're putting yourself under to get all of these ventures of yours up and running. And, the original idea was to bring in other craftspeople to both find them some work, and further your own studio output following the more traditional system. Whoever _you_ are comfortable with to do the printing is of course your choice. I think we all know and trust the standard of quality you hold yourself to and I only hope you find a printer who will uphold _your_ trust. The list seems to be running out.
And Jacques, I appreciate your willingness to delay your receipt of the scroll print in order to get 'Hilo Bay' finished. However, I think I know Dave well enough to know he will consider missing his scroll deadline as a breech of trust with his customers and will find some other way to accomplish both tasks more or less on time, even if it means he himself will have to burn the midnight oil to get it done. I hope it doesn't come to that. Is burning the midnight oil purely a _western_ concept, Dave???

Added by: Dave on April 1, 2006 12:31 PM
So, your next ride on the train will be to one of the printers on the list he passed to you on the phone?
Yes I'll be heading down there to knock on a few doors; I won't be using his suggested people first ... I'd rather come fresh to somebody ... To tell the truth, this is just going to push me to get that part of it going; meeting more workmen is something I should have done a long time ago. I tend to get 'settled' into a certain way of doing something, and quickly get myself into a rut with it, and ignore other possibilities. Part of this is not a bad characteristic to have - loyalty to the people I deal with, rather than constantly looking around for something 'better' - but it does have a downside.
(Sort of a side story here that emphasizes this: for around seven years I worked exclusively with the first papermaker I had been introduced to. I heard that 'other people' were good papermakers but really felt a kind of loyalty to the man I had chosen, so didn't follow those suggestions. Somewhere along the line though, I got just such a terrible batch of paper that I had no choice; I ordered a batch from Iwano-san. Never looked back ... And exactly the same thing happened with my choice of both brush and baren suppliers; without really realizing it, I was using second-rate stuff, when much better ones were sitting there waiting for me to use them.)
... how about _you_ doing the printing of Gary's Hilo Bay design?
Well, no question now but that I'll be doing the proofing, at least. (Saving 40,000 yen too ... two days @ 20,000 per day). [Side note to Paul B.: what has been your experience of proofing costs with the printers you have dealt with?]
As for the editioning itself, maybe (if I get a good proof) I'll run up a quick couple of dozen copies, just so I can get them into the catalogue, and then look around for a man to do a good job with a larger batch. I really don't want to make Mokuhankan into just a different brand name for the same products made by the same guy here (not to mention the impossibility of doing it all myself ...). I want to just sit back and let other people do the work ... :-)
The list seems to be running out.
I don't think so ... there are a lot of people out there I haven't met; I suspect that some of you think that Dave kind of 'knows everything/knows everybody' over here in this field, and that is absolutely not true. I very much keep to myself usually, almost a hermit sometimes ...
As for the immediate schedule, I haven't managed to finish off that last Hilo Bay block yet. Today is 'wrapping day' for back issue Surimono Album and Poets prints (that stuff used to be done by Ichikawa-san, but not this year ...), Sunday will be layout/translation/Photoshop work for the Scroll Progress Report and the spring Newsletter, and then from Monday, my calendar - which I must follow very strictly, or all will be lost - is coded in green, which means put the other stuff away and get back to work on the scroll ...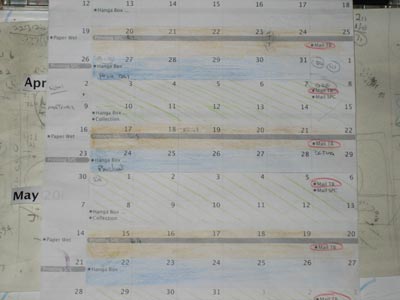 Added by: Jacques on April 3, 2006 7:08 AM
What can I say? I'm actually very happy that you, Dave -as a result of unfortunate circumstances of course- will be doing the proof printing of Gary's Hilo Bay print, and that we will all be able to follow your advances in the printing of this beautiful image! If the proof is satisfactory, and you decide to go for a 'private first printing batch' then I'm afraid I _will_ be going for the complete 'David Bull issue' of the print.
And Gary, I'm sure you're right that Dave will pull off the whole thing anyway... Although I learned by personal experience that 'burning the midnight oil' (which reminds me of a David Bowie hit, by the way) is definitely _not_ the way to go.
At the same time, Dave, I hope that your 'second chance connections' will work out as they did in the past!